San Francisco, California – January 31, 2020. San Francisco Dental Implants, a team of professional dental implant specialists serving not just San Francisco but also nearby communities such as Oakland and Marin County, is proud to announce a new blog post for the Bay Area community.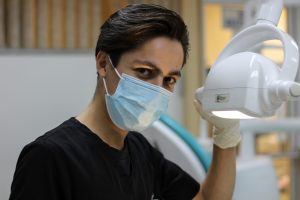 The post focuses on the goal of improving one's smile for 2020 and the way in which a dental implant consultation could be a first step towards that goal.
"This time of year, San Francisco local residents are looking at self-improvement goals to live a healthier, happier life. Good oral care is a critical piece to better health," explained Dr. Alex Rabinovich, chief oral surgeon of San Francisco Dental Implant Center. "Our January post discusses the physical benefits of a clean, healthy smile and how dental implants might be a tactic towards achieving that goal."
The new post can be read at https://www.sfdentalimplants.com/blog/if-you-are-looking-for-dental-implants-in-the-sf-bay-area-you-need-a-specialist/. Persons who want to know about the health benefits of oral surgery, can visit the company's sister website at https://www.oralsurgery-sf.com/. In both cases, interested persons are urged to reach out for a consultation with a specialist to create an individualized treatment plan.
SAN FRANCISCO DENTAL IMPLANT SPECIALISTS HELP THE COMMUNITY AVOID 'HACKS' AND PLAN SOLID GOALS FOR BETTER HEALTH IN 2020
Here is the background for this release. Trendy terms on social media sites can include the practice of 'hacks' to improve one's life. Bay Area residents short on time might appreciate simple tips for health-focused hacks in 2020. Online advice concerning simple changes to one's daily health regime might be beneficial. Tips about drinking more water, eating properly, and regular exercise are basic steps to achieving a healthier lifestyle. Different, more creative hacks could end up offering varied results. People might consider scrutinizing advice promising long-term health benefits before starting a new habit.
One 'hack' to consider might be dental implants; another might be speaking with an oral surgeon on health issues such as wisdom teeth removal. In summary, San Francisco residents ready to make positive changes to their health might consider speaking to a team of dental implant specialists.
ABOUT SAN FRANCISCO DENTAL IMPLANT CENTER
San Francisco Dental Implant Center, under the direction of Dr. Alex Rabinovich and on the Web focuses on the placement and restoration of dental implants, making its team among the most experienced in the Bay Area. Dr. Rabinovich is a Board Certified Oral and Maxillofacial Surgeon specializing in the field of dental implants. The new Trefoil dental implants have been added to the list of procedures the professional oral surgeon provides. This additional training, along with his years of experience, sets Alex Rabinovich MD DDS apart from the growing number of general dentists offering dental implant treatments. Dr. Rabinovich provides services for the San Francisco Bay Area, Marin County, Peninsula, and surrounding North Bay Cities.