Oakland | Top Dental Implant Center & Oral Surgeon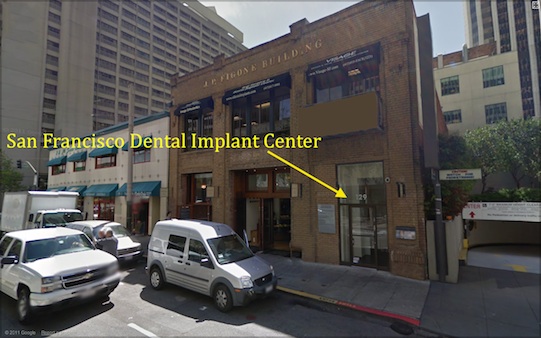 Our dental implant center is an easy commute from Oakland!
Click to email us | call (415) 992-9188
Address

129 Sacramento Street
San Francisco, CA 94111
Hours

Monday – Friday: 9:00AM to 5:30PM
Phone

(415) 992-9188
Fax

(415) 233-0104
Oakland Dental Implant Center

Many of our patients come from Oakland in search of a top Oakland dental implant center or a top Oakland oral surgeon for dental implants. Guess what? Many of them take the easy trip from Oakland to San Francisco in search of affordable dental implants and a top oral surgeon, our very own Dr. Alex Rabinovich. While technically we are located in San Francisco, Oakland is not that far; and for an important procedure like dental implants, the easy commute from Oakland to our San Francisco office is worth it.

If you are looking for a top Oakland oral surgeon and dental implant center, make the commute. For affordable dental implants in Oakland – you'll be glad you did!
About Oakland

In more recent times, Oakland Airport found room for the revolutionary idea of 28-year-old Memphis entrepreneur Fred Smith and his new overnight delivery service known as Federal Express. Today the Federal Express sorting center here handles 51.5 percent of Oakland International Airport's annual freight volume of 1.4 billion pounds.

The 27,000 passengers who use the airport each day can thank the Port for its leadership role in the airline deregulation that has led to today's lower fares. A lawsuit filed by the Port in 1961, charging that the eight airlines holding authority to serve the Bay Area gave Oakland "inadequate and unjustly discriminatory service," became the legal basis for airline deregulation. Four years later, in 1965, Pacific Southwest Airlines pioneered low-cost service with 32 weekly flights between Oakland and Los Angeles at a fare of $11.43.

The Western Aerospace Museum at the airport's North Field features civilian, military and commercial aircraft, and emphasizes the contributions made to aviation history at Oakland Airport and the former Alameda Naval Air Station.

Source: http://www.portofoakland.com/portnyou/history.asp