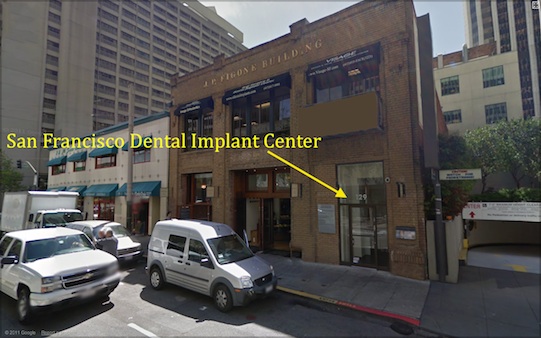 Our dental implant center is located in downtown San Francisco!
Click to email us | call (415) 992-9188
Address
&

Directions
Address

129 Sacramento Street
San Francisco, CA 94111
Parking

Parking is available at Embarcadero garage and several other garages in the area
Hours

Monday – Friday: 9:00AM to 5:00PM
Phone

(415) 992-9188
Fax

(415) 277-0704
San Francisco Dental Implant Center

Many of our patients come from all over the San Francisco Bay Area in search of a top San Francisco dental implant center or a top San Francisco oral surgeon for dental implants. Guess what? Many of them take the easy trip to San Francisco in search of affordable dental implants and a top oral surgeon, our very own Dr. Alex Rabinovich. We are clearly one of the top dental implant centers in San Francisco (the city) as well as one of the top San Francisco Bay Area dental implant centers.

If you are looking for a top San Francisco oral surgeon and dental implant center, call or email for a consult. For affordable dental implants in San Francisco – you'll be glad you did!
About San Francisco

1892 April – First electric streetcars with overhead wires began running in San Francisco
1906 April 18 – San Francisco's Great Earthquake damages the cable cars, allowing United Railroads (URR) to convert much of the city to streetcar service
1912 May – Eight cable car lines remained in service in San Francisco
1929 November – Market Street Railway (formerly URR) ends service on the Pacific Avenue line
1941 April – Castro cable line taken over by buses
1942 February – Sacramento-Clay line taken over by buses
1944 September – The City and County of San Francisco took over the Market Street Railway with its two Powell Street cable lines. Cal Cable last privately held transit system in San Francisco
1946 – Committee release statistics proving cable cars lost less money than Muni buses
1946 November – Committee succeeds in getting a charter amendment to save the Powell Street cables on the ballot
1947 – Mayor Lapham attempts to close down cable car system
1947 March 4 – Friedel Klussman rallied a new group called the Citizen's Committee to Save the Cable Cars
1947 April 3 – The Citizen's Committee to Save the Cable Cars began a petition drive for a charter amendment with the City of San Francisco to save the cable cars
1947 May 1 – The City Attorney ruled against the Utilities Manager James Turner, thereby allowing the citizens of San Francisco to vote on the charter amendment to continue operating the cable car system
1947 Nov. 4 – Measure 10 won by a vote of 166,989 to 51,457 forcing the City of San Francisco to maintain and operate the Powell Street cable car systemSource: http://www.sfcablecar.com/history.html