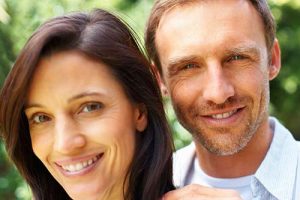 Dental implants are artificial teeth implanted into your jaw to restore your dental appearance. They can be a single tooth, multiple teeth, or indeed an entire jaw. You can work with your oral surgeon to determine the best course of action for you. Every person is different, and dental implants can work in a range of situations and health statuses. If you live or work in or near San Francisco, contact our office for a consultation.
Each dental implant is unique, and our doctors will evaluate your candidacy for this reliable, long-term solution.
As we age, we can injure or even lose teeth. Gum disease and other issues are common causes of tooth loss. Your dentist or oral surgeon might recommend a consultation with a dental implant specialist. Fortunately, our office is located in the financial district of San Francisco, making it easy to come in for a consultation with Dr. Rabinovich.
Dental implants consist of three basic parts: the crown, the abutment, and the implant body. The metal used is titanium, which has the fortunate property of being easy for the body to accommodate. Indeed, over time bone will grown in and around the titanium solidifying the dental implant.
Among the benefits of dental implants are the following. They restore your ability to chew normally and are superior to dentures. They are good-looking. Cosmetically, dental implants look like "real" teeth and will restore your smile. They preserve the health of nearby teeth and gums, and will improve your quality of life. Dental implants are superior to older technologies such as "crowns," "bridges," or "false teeth" (dentures).