In the past, people missing teeth had no option but dentures. New technologies and dental implants make replacing all your teeth, even in a day, now possible. People call this exciting procedure 'all on 4 'dental implants or 'teeth in a day.' It's exciting, and it may be for you. We have people from all over the San Francisco Bay Area come to experience the all-on-4 dental implant procedure.
What is All on 4?
"All-on-4" technology means using at least four dental implants to replace all your teeth. Often angled to engage the existing bone to attach a bridge that replaces all the teeth on that jaw.
Before "all-on-4" technology, when people lost teeth, they lost the bone to support their teeth and the teeth themselves. Patients needed extensive bone grafting to place multiple implants throughout the jaw. This bone grafting required additional surgery. Sometimes, it required taking bone from the hip or leg. Bone grafting had to consolidate for several months before implants were placed. After implants were placed, more time was needed before teeth could be attached. It often took well over a year from when the patient started treatment to when they got teeth!
Now with "all-on-4" technology, we can use 3D imaging to utilize the available bone ( with little or no bone grafting) and place 4-6 implants per jaw. A temporary bridge replacing all the teeth on that jaw can be attached to the new implants on the same day. The load is shared between all the implants to be utilized immediately. Dr. Rabinovich prefers to place more than four implants because if four are placed and at least one fails at some point, a bridge can no longer be utilized. So additional implants are needed. If 5 or 6 implants are placed, that situation is less likely.
Replace Your Entire Smile with All-on-4
Today, the 4-6 dental implant anchors offer a reliable solution for replacing failing or missing teeth, resulting in a new, beautiful, and functional smile. This treatment, also known as "teeth in a day" or "all-on-4," is easy to tolerate and provides immediate results. Utilizing advanced technology and treatment planning, you can leave our office with a brand-new smile on the same day!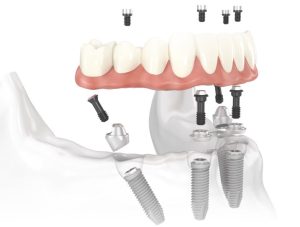 The all-on-4 treatment concept was developed to maximize the use of remaining bone in jaws that have experienced significant tooth loss. It eliminates the need for costly bone regeneration procedures, which can introduce complications. In this treatment, four implants are strategically placed in the front of the jaw to support a temporary set of fixed teeth that can be used immediately. The two front implants are inserted straight, while the two back implants are angled to reduce strain and accommodate a larger set of up to 12 teeth, enhancing chewing capability.
Can I get All-on-4 even after being turned down?
"No bone?" No Problem! Many patients come to our center having been turned down by other practitioners due to a lack of bone to support their implants. Our 3D virtual planning technology, experience with advanced solutions such as Zygoma Implants, training, and experience with complex cases allow Dr. Rabinovich to be successful even with the most complicated cases.
Is 'All on Four' in San Francisco For You? Explore All on Four Dental Implant Technology One-on-one
Our San Francisco office is very convenient, so please reach out for a consultation to see if this procedure is right for you. Every person is different, and you may not need all your teeth replaced. But find out if 'all on four' is truly for you. Call the San Francisco Dental Implant Center today at (415) 992-9188, or email us at info@doctorrabinovich.com.
Advantages of 'All on 4'
Fewer implants: All-on-4 uses only four implants to support a full arch of teeth. This eases the need for comprehensive bone grafting procedures, making it suitable for individuals with low bone density.
Immediate functionality: With All-on-4, patients can leave the dental office with a temporary set of functional teeth on the same day. This means they can regain their ability to eat, speak, and smile without delay, enhancing their quality of life.
Aesthetics and confidence: All-on-4 provides a natural-looking set of teeth that improves the smile's appearance and boosts self-confidence.
Enhanced stability and comfortable: The strategic placement of the implants maximizes stability and chewing efficiency. This allows patients to enjoy various foods and improves their ability to chew comfortably.
Stops bone deterioration: The implants used in All-on-4 help stimulate the underlying jawbone, preventing further bone loss.
Simplified oral hygiene: All-on-4 eliminates the need for removable dentures, which require regular removal and cleaning. The fixed prosthesis can be cleaned much like natural teeth.
It's important to note that the suitability of All-on-4 may vary depending on individual circumstances. Our comprehensive evaluation is necessary to determine the best treatment plan for each patient.
Schedule Your All-On-4 with Us Today
Interested? Please contact us to see if 'teeth in a day' is an option for you at our convenient San Francisco office. Call the San Francisco Dental Implant today at (415) 992-9188, or email us at info@doctorrabinovich.com.