July 7, 2016 – Oakland, CA. San Francisco Dental Implant Center, a top-rated dental implant center in the San Francisco Bay Area, has issued an important update to the Oakland, California, directions page for residents. Customers travelling to the Center from Oakland and the East Bay now have an updated page for travel issues.
"Although the drive isn't far from Oakland or other cities of the East Bay such as Pleasanton or Walnut Creek, our customers may be late due to traffic and bad turns," explained Dr. Alex Rabinovich, chief oral surgeon of SF Dental Implants. "We've updated our Oakland information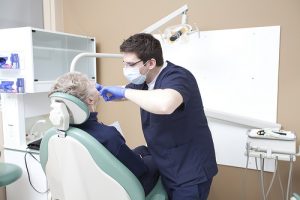 page to provide customers with the easiest route and parking information, including directions for public transportation. Now the trip from Oakland to our Center is as simple as the tooth replacement!"
To view the updated page for directions from Oakland / East Bay to Sf Dental Implants click on the preceding link. There, in addition to driving directions and directions for public transportation, information about dental implants, tooth replacement and oral surgery for Oakland and other East Bay residents is available on the page.
Oakland and East Bay Locals Discover How Easy it is to Cross the Bay for the Best in Dental Implant Choices
The reality of the San Francisco Bay Area is that the more sophisticated service offerings are often located in the city of San Francisco. Dental implants and related technology are no exception. The San Francisco Dental Implant Center has become known as the 'go to' place to receive quality dental implants at an affordable price. Indeed, many residents come to the center from the East Bay communities of Oakland, Walnut Creek, Danville, Livermore, and others that lie to the east of San Francisco.
However, the traffic and congestion can be a barrier to these potential clients. In addition, using the BART system can be confusing. For this reason, the San Francisco dental implant Center has updated its travel directions for the Oakland area. The goal is to make it very easy for clients to come to San Francisco to experience the absolute best quality in dental implants. Indeed, interested parties are reminded that they can receive a no obligation consultation by reaching out to the center either via the website or by calling on the telephone.
About San Francisco Dental Implant Center
San Francisco Dental Implant Center, under the direction of Dr. Alex Rabinovich, focuses on the placement and restoration of dental implants, making it among the top-rated dental implant clinics in the San Francisco Bay Area. Dr. Rabinovich is a Board Certified Oral and Maxillofacial Surgeon specializing in the field of dental implants.  This additional training, along with his years of experience, sets Alex Rabinovich MD DDS apart from the growing number of general dentists offering dental implant treatments. San Francisco Dental Implant Center serves the San Francisco Bay Area including Palo Alto, San Mateo, Redwood City and Mountain View.
Contact:
San Francisco Dental Implant Center, Media Relations
Web. https://www.sfdentalimplants.com/
Email. visage.sanfran@gmail.com
Tel. 415-817-9991