Updated: January 2, 2017
Oakland California: Directions to/from Oakland (East Bay) to/from the San Francisco Dental Implant Center
San Francisco Dental Implant Center is located not far from Oakland, California and the East Bay. Patients come to us from Oakland, as we offer some of the most affordable dental implants available in the San Francisco Bay Area. Getting dental implants can be a major investment, and it's worth it to get a second opinion. Patients visit us not only from Oakland but also from the surrounding cities of the East Bay such as Alameda, San Leandro, Hayward, El Cerrito .  Common transportation options are:
BART – the BART system services both Oakland and our offices, stop is Embarcadero (first stop in San Francisco)
AC Transit – AC transit runs buses to/from Oakland and San Francisco as well as BART
Ferries – the Ferry system makes a beautiful way to get to/from Oakland and San Francisco
These are great options for pre- and post-op appointments. On the day of a major surgery, we do ask that you have a friend drive. In that case, you'll take the Bay Bridge from Oakland, and exit on Fremont street.
Whether you live in Oakland proper or Alameda, San Leandro, Hayward, El Cerrito- our Dental Implant center is just a short drive away, well worth it as an investment for a free consult and second opinion!
---
Contact us for a free consult or call (415) 992-9188 now!
---
Modern advances in dental science now allow us to offer patients multiple options to help you enjoy a functional, secure, confident and beautiful smile — all in our office. One of the many safe, successful and affordable procedures is dental implants. It involves the installation of permanent replacement teeth supported by artificial dental root forms called dental implants. These tooth replacements look, feel and function like natural teeth. Dental implants have solved many problems associated with tooth loss that previously required replacement by removable full or partial dentures. With today's technology the cost of dental implants can make them very affordable!
Dental implants are designed to provide a foundation for replacement teeth that look, feel, and function like natural teeth. After the procedure the patient regains the ability to eat virtually anything and can smile with confidence, knowing that teeth appear natural and that facial contours will be preserved. The implants themselves are titanium posts that are placed into the jawbone where teeth are missing. The bone bonds with the titanium or bioceramic surface coating on top of the titanium alloy, creating a strong foundation for artificial teeth. In addition, implants can help preserve facial structure, preventing the bone deterioration which occurs when teeth are missing.
Dental implants are a great way to replace missing teeth. Implants also provide excellent support and stability for removable partial or complete dentures when dental appliances are required.
Dental implants are changing the way people live! With them, people are rediscovering the comfort and confidence to eat, speak, laugh and enjoy life.
What does getting dental implants involve?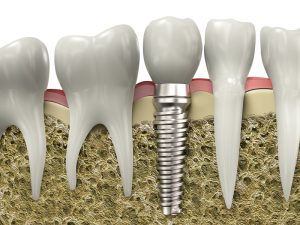 The process of getting implants requires a number of visits over several months.
X-rays and impressions (molds) are taken of the jaw and teeth to determine bone, gum tissue, and spacing available for an implant. While the area is numb, the implant will be surgically placed into the bone and allowed to heal and integrate itself onto the bone for up to six months. Depending on the type of implant, a second surgery may be required in order to place the "post" that will hold the artificial tooth in place. With other implants the post and anchor are already attached and placed at the same time.
After several weeks of healing, the artificial teeth are made and fitted to the post portion of the anchor. Because several fittings may be required, this step may take one to two months to complete. After a healing period, the artificial teeth are securely attached to the implant, providing excellent stability and comfort to the patient.
You will receive care instructions when your treatment is completed. Good oral hygiene, eating habits, and regular dental visits will aid in the life of your new implant.
If you have any questions, concerns, or would like to schedule an appointment at our San Francisco Dental Implant Center, please contact us today. We look forward to providing you with the personal care you deserve. Our office staff is friendly, knowledgeable, and here to help you with a smile.
Call the San Francisco Dental Implant Center today at (415) 992-9188, or email us at info@doctorrabinovich.com.
About Dental Implants and Oakland, California
The City of Oakland, located in the Bay Area of Northern California, is famously considered a "melting pot" of ethnicities- a region known for its multiculturalism. Oakland's unique culture and demographic is a result from years of urban formation and reconstruction. Although the city was formally incorporated in 1852, the physical land that Oakland rests on has a history stemming back as far as ~2000 B.C.E. Specifically looking at its pre-incorporated time period, the following analysis attempts to identify and explain the historical events that helped frame Oakland's foundation in becoming a city.
Source: http://oaklandplanninghistory.weebly.com/early-history.html
Some fun facts about Oakland, California. Did you know that many famous people came from Oakland? For example, these famous folk come from Oakland:actor Daniel Handler athlete Jason Kidd and Dan Fouts. So even if you don't live in Oakland, but in Alameda, San Leandro, Hayward, El Cerrito, you can still be almost famous! Oh, and did you know this? Lake Merritt has been the site of the nation's first three-dimensional theme park for children, Children's Fairyland. Inspired by Children's Fairyland, Walt Disney went on to construct Disneyland.