San Francisco, California (Western Addition) – March 31, 2016. San Francisco Dental Implants, a top-rated dental implant center located in the San Francisco Bay Area, is proud to announce an informative new blog post on dental implant options for residents of the Western Addition, an important neighborhood in San Francisco, California. The city has a rich cultural history and areas such as the Fillmore District in the Western Addition are no exception.
"The Western Addition of San Francisco offers a long and interesting history," explained Dr. Alex Rabinovich of San Francisco Dental Implants. "We love San Francisco neighborhoods and wanted to share the colorful past of this area. We also want people to know that residents of the Western Addition can come East to our clinic for the best in dental implants."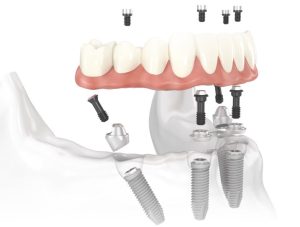 To view the new blog post about the Western Addition, please visit the website. Neighborhood residents are encouraged, and reminded, that they can avail themselves of a no-obligation consultation on dental implant needs at the SF Dental Center's office just minutes away by MUNI or car.
In San Francisco, Western Addition Locals Travel East for a Specialist in Dental Implants
The Western Addition is part of San Francisco's interesting past and present. The area includes the Fillmore District, a diverse and vibrant community with global recognition. A single street of Victorian homes, one of the most photographed locations in the world, resides in the Western Addition. The area is also nearby other beautiful neighborhoods such as Pacific Heights and the Van Ness area. Locals living in the Western Addition have public access to the best in services from other neighborhoods. This includes dental implants and oral surgery in the eastern part of the city.
Area residents may enjoy local services such as dentists, but if they need a specialist, it is only a short trip East to visit the best in oral surgery for teeth replacement services, that is, for dental implants. The Western Addition is a special place to live and transportation through MUNI, car, or taxi make it easy to visit the San Francisco downtown area when required.
About San Francisco Dental Implant Center
San Francisco Dental Implant Center is located in the Financial District of the City. Under the direction of Dr. Alex Rabinovich, SF Dental Implants focuses on the placement and restoration of dental implants, and tooth replacement making its team among the most experienced in the Bay Area. Dr. Rabinovich is a Board Certified Oral and Maxillofacial Surgeon specializing in the field of dental implants. This additional training, along with his years of experience, sets Alex Rabinovich MD DDS apart from the growing number of general dentists offering dental implant treatments. San Francisco Dental implants serves all neighborhoods in the city of San Francisco including Western Addition, Pacific Heights, Russian Hill and Noe Valley.
Contact:
San Francisco Dental Implant Center, Media Relations
Web: https://www.sfdentalimplants.com/
Email: info(at)sfdentalimplants(dot)com
Tel. (415) 992-9188