San Francisco, California – August 1, 2019. San Francisco Dental Implants, a recognized clinic for excellent care and successful outcomes in the dental implant field at, is proud to announce an informative post about so called "all-on-four dental implants."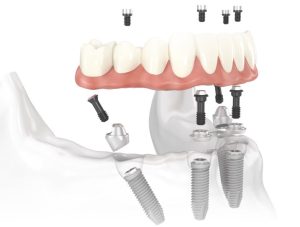 The post could clear up confusion for Bay Area residents hesitant to schedule the procedure. The truth about costs, pain management, and recovery can help solve concerns.
"Sometimes, when patients come in with preconceived ideas about the all-on-four surgical process, they might be worried about the length of surgery and recovery. Some are very concerned about how painful it might be. Our new post is a first step towards shedding light on their questions," explained Dr. Alex Rabinovich, chief oral surgeon of San Francisco Dental Implant Center. "Dental implant surgery has come a long way, and patients are pleasantly surprised at how simple and easy it is. We wanted to share some basic answers in our new post, so patients are not afraid to come in for an initial visit to learn more."
Locals can review the new and enlightening blog post at https://www.sfdentalimplants.com/blog/all-on-four-is-dental-implant-technology-that-can-give-you-new-teeth-in-a-day/ . All-on-four implant surgery is a new, ground-breaking procedure. The easy process could provide new teeth in just one day. Patients suffering from missing teeth and bone loss can find out if the dental implant surgery is a good match. Extra details about all-on-four dental implant surgery in the Bay Area is also available at https://www.sfdentalimplants.com/all-on-four-implants/. Some patients might not qualify for the procedure. It may help to contact the clinic for a no-cost, no-obligation consultation to confirm eligibility. Patients who have other oral surgery needs should also visit the company's sister website at https://www.oralsurgery-sf.com/.
BAY AREA RESIDENTS DISPEL THE MYSTERY OF ALL-ON-FOUR DENTAL IMPLANT SURGERY
Here is background on this release. Dental technology today can give patients a healthy, beautiful mouth within hours. Robotics, pain management and an easy recovery schedule can contribute to a better patient experience. If a Bay Area resident needs to replace one missing tooth, there might be little fear about contacting an oral surgeon. When a Silicon Valley local needs to replace a whole row of teeth, however, concerns about the cost, amount of time, and pain might escalate. Taking the mystery out of dental implant surgery can help a person make the call to schedule a vital appointment.
For these reasons, San Francisco Dental Implant Center has announced a new informational post about all-on-four dental implants in the Bay Area. Nervous patients can learn about the process of replacing a full row of teeth. State-of-the-art materials and robotic technology can shorten the amount of time a patient is in a chair. Pain management and the expertise from a skilled oral surgeon can shorten recovery time. The result might include an entire row of beautiful new teeth in one day. In summary, learning the truth via this new post about all-on-four dental implants can help take the mystery, and fear, out of oral surgery for Bay Area residents.
ABOUT SAN FRANCISCO DENTAL IMPLANT CENTER
San Francisco Dental Implant Center, under the direction of Dr. Alex Rabinovich, focuses on the placement and restoration of dental implants, making its team among the most experienced in the Bay Area. Dr. Rabinovich is a Board Certified Oral and Maxillofacial Surgeon specializing in the field of dental implants. The new Trefoil dental implants have been added to the list of procedures the professional oral surgeon provides. This additional training, along with his years of experience, sets Alex Rabinovich MD DDS apart from the growing number of general dentists offering dental implant treatments. Dr. Rabinovich provides services for the San Francisco Bay Area, Marin County, Peninsula and surrounding North Bay Cities.
Contact:
San Francisco Dental Implant
Center, Media Relations
Web. https://www.sfdentalimplants.com/
Email. visage.sanfran@gmail.com
Tel. 415-817-9991