San Francisco, California – January 10, 2020. San Francisco Dental Implant Center, a best-in-class clinic for quality dental implants in San Francisco but serving Marin County residents as well, is proud to announce a new post on 2020 preparations.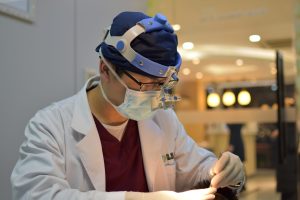 The post explains that residents of Marin County who are looking to self-improvement for 2020 might consider a short commute into San Francisco for dental implants. The post explains that if a short drive is worth it for a better dinner, it is certainly worth it for a better-looking smile in 2020.
"San Francisco is a high-energy city to work and play. When it comes to daily life, some folks prefer a slower pace. Many areas around the city, including Marin, offer the perfect balance for locals," explained Dr. Alex Rabinovich, chief oral surgeon of San Francisco Dental Implants. "Marin County residents can enjoy a quieter daily existence, yet easily access world-class services nearby. A short commute can bring them right to our door for professional dental implant surgery."
Residents of Marin County and the surrounding Bay Area can review the new post from San Francisco Dental Implant Center. Oral procedures, including dental implants, tooth replacement, jaw surgery, or wisdom tooth removal, are easy to schedule and drive to from the Bay Area suburbs. Indeed, Marin County residents can review the newly updated Marin-specific informational page.
MARIN COUNTY RESIDENTS FIND THE BEST DENTAL IMPLANTS ARE RIGHT OVER A BRIDGE IN SAN FRANCISCO
Here is the background for this release. Several areas surrounding the bustling city of San Francisco can offer a quieter option for slower-paced individuals. Many residents of nearby suburbs might commute to The City for work, dining, and entertainment. A medical community offering the best in cutting-edge treatments and surgery are also prevalent in The City by the Bay. Locals living in Marin County ready to learn about dental implants can find the best NorCal dental implant clinic right next door in 'The Big City.'
Leading-edge procedures include; trefoil dental implants, teeth-in-a-day, and all-on-four. Innovative pain management protocols and an attentive clinic team could help patients recover quickly. For these reasons, SF Dental Implants is proud to announce a new post about the advantages of living near a premier city.
ABOUT SAN FRANCISCO DENTAL IMPLANT CENTER
San Francisco Dental Implant Center, under the direction of Dr. Alex Rabinovich, focuses on the placement and restoration of dental implants, making it among the top-rated dental implant clinics in the San Francisco Bay Area. Dr. Rabinovich is a Board Certified Oral and Maxillofacial Surgeon specializing in the field of dental implants. This additional training, along with his years of experience, sets Alex Rabinovich MD DDS apart from the growing number of general dentists offering dental implant treatments. The cost of dental implants in the Bay Area can be easy to manage with payment plans available. San Francisco Dental Implant Center serves the San Francisco Bay Area, including Marin County areas such as Tiburon, Sausalito, and Mill Valley.
Contact:
San Francisco Dental Implant Center, Media Relations
Web. https://www.sfdentalimplants.com/
Email. visage.sanfran@gmail.com