At San Francisco Dental Implant Center, we love San Mateo. It's an "inner suburb" to San Francisco and combines a suburban lifestyle with easy access to the City by the Bay.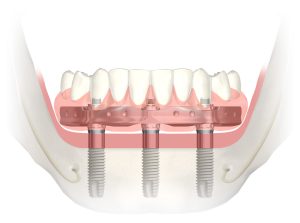 If you live or work in San Mateo and are considering San Mateo dental implants, you can hop on CalTran or drive up and see us. After all, it's only about 25 minutes by car, and we do have the reputation of being the top-rated dental implant clinic in the Bay Area.
In fact, not only do we carry out a lot of San Mateo dental implants, but we have patients come to us from all over the Bay Area and further afield as well. They come from Oakland, Berkeley, Richmond, San Rafael, Vallejo, Walnut Creek, Dublin, Fremont, and many other cities in Southern California, because the reputation of our doctor has spread far and wide. Dr Rabinovich has been carrying out dental implant work for many years, and indeed it is what he spends most of his working hours doing.
There Is Nothing To Beat Dental Implants
There is nothing to beat dental implants for replacing missing teeth. Certainly, you can still have dentures made, but do you really want something intrusive in your mouth? You might improve your smile, but you still won't be able to eat certain foods. You can also still get a bridge, but unfortunately that involves cutting down two perfectly good teeth on either side of the missing one in order to support the replacement tooth.
Dental implants on the other hand, are as good as your original tooth or teeth, and it could be argued that they are better. The doctor will insert a titanium screw, which is the implant, into your jawbone, and the jawbone will grow tightly around it in a process known as ossification. This has the effect of clamping the implant so tightly that it cannot move. A crown is placed on to the implant, and there you have it. A brand-new tooth or teeth which are a perfect replacement for the ones that were missing.
Let's be honest: dental implants are not "cheap". It is a very skilled form of surgery, and it takes years of training to be able to carry out dental implant work correctly. This is why many of our patients are recommended to us by their dentist who knows and understands that he or she is not qualified to undertake such work. However, if you want nothing but the BEST replacements or your missing tooth or teeth, then dental implants are the only way to go.
And if you are looking for San Mateo dental implants, San Francisco Dental Implant Center is the only way to go.