San Francisco Dental Implant Center is located not far from San Mateo, California. Patients come to us from San Mateo, as we offer some of the most affordable dental implants available in the San Francisco Bay Area. Getting dental implants can be a major investment, and it's worth it to get a second opinion. Patients visit us not only from San Mateo but also from the surrounding cities of Pacifica, Burlingame, Redwood City, Palo Alto . Whether you live in San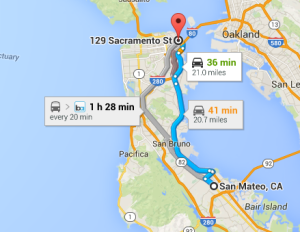 Mateo proper or Pacifica, Burlingame, Redwood City, Palo Alto- our Dental Implant center is just a short drive away, well worth it as an investment for a consult and second opinion!
---
Contact us for a consult or call (415) 992-9188 now!
---
If you are coming to our San Francisco office from San Mateo, click here for Google map directions.  Basically –
Head north on US Highway 101 towards San Francisco
Merge onto I-280 N
Continue onto King Street
Continue onto the Embarcadero
Turn Left on Washington
Turn Left onto Drumm St
Turn Right onto Sacramento S
Modern advances in dental science now allow us to offer patients multiple options to help you enjoy a functional, secure, confident and beautiful smile — all in our office. One of the many safe, successful and affordable procedures is dental implants. It involves the installation of permanent replacement teeth supported by artificial dental root forms called dental implants. These tooth replacements look, feel and function like natural teeth. Dental implants have solved many problems associated with tooth loss that previously required replacement by removable full or partial dentures. With today's technology the cost of dental implants can make them very affordable!
Dental implants are designed to provide a foundation for replacement teeth that look, feel, and function like natural teeth. After the procedure the patient regains the ability to eat virtually anything and can smile with confidence, knowing that teeth appear natural and that facial contours will be preserved. The implants themselves are titanium posts that are placed into the jawbone where teeth are missing. The bone bonds with the titanium or bioceramic surface coating on top of the titanium alloy, creating a strong foundation for artificial teeth. In addition, implants can help preserve facial structure, preventing the bone deterioration which occurs when teeth are missing.
Dental implants are a great way to replace missing teeth. Implants also provide excellent support and stability for removable partial or complete dentures when dental appliances are required.
Dental implants are changing the way people live! With them, people are rediscovering the comfort and confidence to eat, speak, laugh and enjoy life.
What does getting dental implants involve?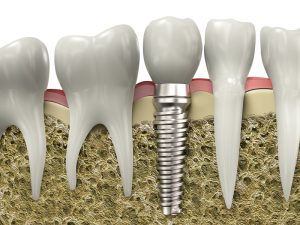 The process of getting implants requires a number of visits over several months.
X-rays and impressions (molds) are taken of the jaw and teeth to determine bone, gum tissue, and spacing available for an implant. While the area is numb, the implant will be surgically placed into the bone and allowed to heal and integrate itself onto the bone for up to six months. Depending on the type of implant, a second surgery may be required in order to place the "post" that will hold the artificial tooth in place. With other implants the post and anchor are already attached and placed at the same time.
After several weeks of healing, the artificial teeth are made and fitted to the post portion of the anchor. Because several fittings may be required, this step may take one to two months to complete. After a healing period, the artificial teeth are securely attached to the implant, providing excellent stability and comfort to the patient.
You will receive care instructions when your treatment is completed. Good oral hygiene, eating habits, and regular dental visits will aid in the life of your new implant.
If you have any questions, concerns, or would like to schedule an appointment at our San Francisco Dental Implant Center, please contact us today. We look forward to providing you with the personal care you deserve. Our office staff is friendly, knowledgeable, and here to help you with a smile.
Call the San Francisco Dental Implant Center today at (415) 992-9188, or email us at info@doctorrabinovich.com.
About Dental Implants and San Mateo, California
The City of San Mateo now stands on parts of two historic properties, formerly known as Rancho San Mateo and Rancho de las Pulgas.
As time progressed, Rancho San Mateo was sold to an American mercantile firm, and the land was broken up into smaller parcels. In 1849, a new transportation system became available when Nicolas de Peyster engineered a stagecoach stop on land where the old mission once stood, and built a main road through the town. In 1861, Charles Polhemus supervised the construction of a railway system that would connect San Francisco and San Jose. San Mateo would be a stop on this route, and with the addition of a train station, the town's development continued at a fast pace.
Improvements continued and spurred San Mateo's progress toward becoming a thriving community. Clean water for the residents was realized in 1888 when the Crystal Springs dam was built on San Mateo Creek. The establishment of a newspaper, "The Leader," brought current events to the residents, and the paper's founders, Richard H. Jury and Charles N. Kirkbride, pushed for the town's incorporation. Under this initiative, San Mateo officially became a town on September 3, 1894, with a majority vote of its citizens.
In 1906, the population of San Mateo grew due to the effects of a natural disaster. A devastating earthquake occurred on April 18, 1906, and San Francisco, near the quake's epicenter, sustained severe damage. Many San Franciscans migrated to San Mateo in search of a place to live.
Source: http://www.watchdogsanmateo.com/
Some fun facts about San Mateo, California. Did you know that many famous people came from San Mateo? For example, these famous folk come from San Mateo:actors Bruce Lee actress Lelie Mann as broadway actress Edna McClure. So even if you don't live in San Mateo, but in Pacifica, Burlingame, Redwood City, Palo Alto, you can still be almost famous! Oh, and did you know this? Sometimes referred to as the "Paris of the (San Francisco) Peninsula", San Mateo is afforded shelter from the Pacific Ocean by the Montara Mountain block of the Santa Cruz Mountain chain.