Here's a secret. The best dental implant specialist in Oakland isn't in Oakland!  For the best dental implants Oakland you need to get on BART and head over to the financial district of San Francisco. Let's face it: it's hardly a million miles away – just about a half hour to SF on BART.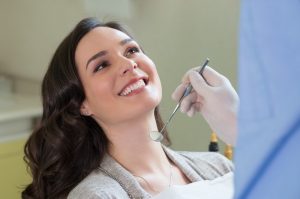 Here's where you will find Dr Alex Rabinovich who is arguably not just the best dental implant specialist in Oakland (even though he's not in Oakland), not just the best in the Bay Area, not just the best in the US, but in the top handful of dental implant surgeons in the world.
OK, that may seem like a grand claim, but it happens to be a fact. No doubt you'd like some evidence to support that, so evidence you shall have.
Evidence for Excellence in Dental Implants
Dr Rabinovich attended George Washington High School in San Francisco and then went to UC Berkeley where he graduated with honors at the top of his class with a Bachelor's degree in Environmental Biology. He then trained at Columbia University School of Dental and Oral Surgery, obtaining his DDS, and followed on at State University of New York, Downstate School of Medicine gaining his MD degree.
After that he went to Kings County Hospital and trained in General Surgery and Maxillofacial Surgery which was followed by a spell at Georgetown University/Posnick Center for Facial Plastic Surgery. Here he worked with some of the top surgeons in the world in the field of Head and Neck Surgery.
Dr Rabinovich is frequently called upon to speak at major dental conventions around the world, and also devotes time to attending medical missions overseas where he performs reconstructive surgery for desperate children suffering from palate and cleft lip problems, and other facial deformities, without charge.
The Best Of The Best in Dental Implants
In short, Dr Rabinovich is the best of the best. When you consider having dental implants Oakland, it is well worth the trip into San Francisco where your treatment will be carried out by Dr Rabinovich in person – not a junior doctor. Treatment at San Francisco Dental Implant Center is made affordable by Dr Rabinovich as he has arranged for a variety of different financial programs which can be tailored to suit every pocket. His view is that nobody should be prevented from having dental implants Oakland simply because the procedure is more expensive than dentures or a bridge.
Dental implants are the nearest thing to real teeth that you could have and in some respects better, since once implanted they cannot suffer from disease or cavities. There are many other advantages over a bridge or dentures as well.
Dr Rabinovich also offers every patient an initial consult where you can ask him all of the questions that you no doubt have. To book yours, call the office now on (415) 992-9188.