Modern advances in dental science now allow us to offer patients multiple options to help you enjoy a functional, secure, confident and beautiful smile — all in our office. One of the many safe, successful and affordable procedures is dental implants. It involves the installation of permanent replacement teeth supported by artificial dental root forms called dental implants. These tooth replacements look, feel and function like natural teeth. Dental implants have solved many problems associated with tooth loss that previously required replacement by removable full or partial dentures. With today's technology the cost of dental implants can make them very affordable!
San Francisco Dental Implant Center is located not far from Walnut Creek, California. Patients come to us from Walnut Creek, as we offer some of the most affordable dental implants available in the San Francisco Bay Area. Getting dental implants can be a major investment, and it's worth it to get a second opinion. Patients visit us not only from Walnut Creek but also from the surrounding cities of Danville, San Ramon, Dublin, Pleasanton . Whether you live in Walnut Creek proper or Danville, San Ramon, Dublin, Pleasanton- our Dental Implant center is just a short drive away, well worth it as an investment for a free consult and second opinion!
---
Contact us for a free consult or call (415) 992-9188 now!
---
The procedure, referred to as osseo or biointegration, provides patients with the comfort and assurance of permanent teeth. Many patients find that dental implants restore their self-confidence and self-esteem and improve their quality of life.
Dental implants are designed to provide a foundation for replacement teeth that look, feel, and function like natural teeth. After the procedure the patient regains the ability to eat virtually anything and can smile with confidence, knowing that teeth appear natural and that facial contours will be preserved. The implants themselves are titanium posts that are placed into the jawbone where teeth are missing. The bone bonds with the titanium or bioceramic surface coating on top of the titanium alloy, creating a strong foundation for artificial teeth. In addition, implants can help preserve facial structure, preventing the bone deterioration which occurs when teeth are missing.
Dental implants are a great way to replace missing teeth. Implants also provide excellent support and stability for removable partial or complete dentures when dental appliances are required.
Dental implants are changing the way people live! With them, people are rediscovering the comfort and confidence to eat, speak, laugh and enjoy life.
What does getting dental implants involve?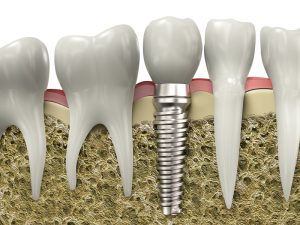 The process of getting implants requires a number of visits over several months.
X-rays and impressions (molds) are taken of the jaw and teeth to determine bone, gum tissue, and spacing available for an implant. While the area is numb, the implant will be surgically placed into the bone and allowed to heal and integrate itself onto the bone for up to six months. Depending on the type of implant, a second surgery may be required in order to place the "post" that will hold the artificial tooth in place. With other implants the post and anchor are already attached and placed at the same time.
After several weeks of healing, the artificial teeth are made and fitted to the post portion of the anchor. Because several fittings may be required, this step may take one to two months to complete. After a healing period, the artificial teeth are securely attached to the implant, providing excellent stability and comfort to the patient.
You will receive care instructions when your treatment is completed. Good oral hygiene, eating habits, and regular dental visits will aid in the life of your new implant.
If you have any questions, concerns, or would like to schedule an appointment at our San Francisco Dental Implant Center, please contact us today. We look forward to providing you with the personal care you deserve. Our office staff is friendly, knowledgeable, and here to help you with a smile.
Call the San Francisco Dental Implant Center today at (415) 992-9188, or email us at info@doctorrabinovich.com.
About Dental Implants and Walnut Creek, California
San Ramon Valley Bank was built in 1910 at the corner of Main Street and Walker Avenue (now Duncan Avenue). It was Walnut Creek's first bank. The idea of building this institution came from local merchant Joseph Silveira, who ran the Valley Mercantile at Main and Cypress streets. The bank building was razed in late 1998 for the Broadway Pointe project.
Walnut Creek was first known as "The Corners" — where the two roads leading from Pacheco and Lafayette converged. Today those "corners" are at the intersection of Mt. Diablo Boulevard and North Main Street. The area's first settler was William Slusher, a squatter who built the first roofed abode on the bank of what was then known as "Nuts Creek" in 1849 (in the area of Liberty Bell Plaza).
The oldest commercial structure still standing in Walnut Creek is the Albert Sherburne store, built around 1863 at the corner of Main Street and Oakland Road (now Mt. Diablo Boulevard). It was partially destroyed by fire in 1879 and rebuilt the following year. This photo shows the building around 1881. Over the years the building has housed several businesses, most notably Arthur's Liquors (1935-1973), and today is occupied by La Fogata Mexican restaurant.
In 1855, Milo Hough of Lafayette decided to develop The Corners and built a hotel called the "Walnut Creek House." A blacksmith shop and a store were soon built nearby. A year later, Hiram Penniman (who would later build the ranch house now used as the Shadelands Ranch Historical Museum) laid out the first town site and realigned what is now Main Street.
The Walnut Creek Meat Market as it appeared around 1900. It was built by Arthur Williams on the east side of Main Street, about 150 feet south of Bonanza Street. He sold it to Concord butchers Foskett, Ellworthy and Keller, who in turn sold it to Jesse Lawrence around 1910. Lawrence's son, Fred, built a new brick meat market that same year. The family continued to operate the Walnut Creek Meat Co. out of the building until 1987, when they moved the business to Alamo. The family still owns the brick building and rents it to Crepes A Go-Go.

Source: http://www.walnut-creek.org/about/history/
Some fun facts about Walnut Creek, California. Did you know that many famous people came from Walnut Creek? For example, these famous folk come from Walnut Creek:television personality Kari Byron as actress China Kantner and actor Todd Bridges. So even if you don't live in Walnut Creek, but in Danville, San Ramon, Dublin, Pleasanton, you can still be almost famous! Oh, and did you know this? Originally called "The Corners" in reference to the convergence of roads leading from its north and west, Walnut Creek was later referred to as "Nuts Creek" before receiving its official name in 1862 when the first U.S. Post Office was established.