Modern advances in dental science now allow us to offer patients multiple options to help you enjoy a functional, secure, confident and beautiful smile — all in our office. One of the many safe, successful and affordable procedures is dental implants. It involves the installation of permanent replacement teeth supported by artificial dental root forms called dental implants. These tooth replacements look, feel and function like natural teeth. Dental implants have solved many problems associated with tooth loss that previously required replacement by removable full or partial dentures. With today's technology the cost of dental implants can make them very affordable!
San Francisco Dental Implant Center is located not far from Sausalito, California. Patients come to us from Sausalito, as we offer some of the most affordable dental implants available in the San Francisco Bay Area. Getting dental implants can be a major investment, and it's worth it to get a second opinion. Patients visit us not only from Sausalito but also from the surrounding cities of El Cerrito, Mill Valley, San Leandro, Daly City . Whether you live in Sausalito proper or El Cerrito, Mill Valley, San Leandro, Daly City- our Dental Implant center is just a short drive away, well worth it as an investment for a consult and second opinion!
---
Contact us for a consult or call (415) 992-9188 now!
---
The procedure, referred to as osseo or biointegration, provides patients with the comfort and assurance of permanent teeth. Many patients find that dental implants restore their self-confidence and self-esteem and improve their quality of life.
Dental implants are designed to provide a foundation for replacement teeth that look, feel, and function like natural teeth. After the procedure the patient regains the ability to eat virtually anything and can smile with confidence, knowing that teeth appear natural and that facial contours will be preserved. The implants themselves are titanium posts that are placed into the jawbone where teeth are missing. The bone bonds with the titanium or bioceramic surface coating on top of the titanium alloy, creating a strong foundation for artificial teeth. In addition, implants can help preserve facial structure, preventing the bone deterioration which occurs when teeth are missing.
Dental implants are a great way to replace missing teeth. Implants also provide excellent support and stability for removable partial or complete dentures when dental appliances are required.
Dental implants are changing the way people live! With them, people are rediscovering the comfort and confidence to eat, speak, laugh and enjoy life.
What does getting dental implants involve?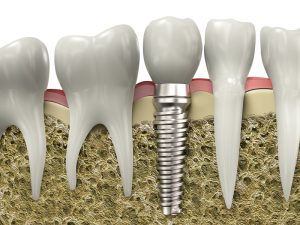 The process of getting implants requires a number of visits over several months.
X-rays and impressions (molds) are taken of the jaw and teeth to determine bone, gum tissue, and spacing available for an implant. While the area is numb, the implant will be surgically placed into the bone and allowed to heal and integrate itself onto the bone for up to six months. Depending on the type of implant, a second surgery may be required in order to place the "post" that will hold the artificial tooth in place. With other implants the post and anchor are already attached and placed at the same time.
After several weeks of healing, the artificial teeth are made and fitted to the post portion of the anchor. Because several fittings may be required, this step may take one to two months to complete. After a healing period, the artificial teeth are securely attached to the implant, providing excellent stability and comfort to the patient.
You will receive care instructions when your treatment is completed. Good oral hygiene, eating habits, and regular dental visits will aid in the life of your new implant.
If you have any questions, concerns, or would like to schedule an appointment at our San Francisco Dental Implant Center, please contact us today. We look forward to providing you with the personal care you deserve. Our office staff is friendly, knowledgeable, and here to help you with a smile.
Call the San Francisco Dental Implant Center today at (415) 992-9188, or email us at info@doctorrabinovich.com.
About Dental Implants and Sausalito, California
William Richardson, an English seaman married to the daughter of the Commandante of El Presidio (the Mexican military garrison in San Francisco) was given a 19,571 acre land grant in what is now southern and western Marin County. He built his hacienda in the vicinity of Sausalito's present-day Caledonia Street and prospered from several successful business ventures. In his honor as Sausalito's founder, the body of water fronting Southern Marin County is today called Richardson's Bay. Richardson ultimately lost his vast holdings, and the bulk of Rancho del Sausalito was sold in 1868 to the Sausalito Land and Ferry Company. They laid out streets and subdivided the central waterfront and hills into spectacular view lots, then purchased a small streamer, the Princess, to bring in prospective buyers from San Francisco.
Ferries led to railroads and Sausalito became a bustling transportation hub. Wealthy San Franciscans in gracious summer homes, and upper-class British expatriates ensconced in ornate Victorian mansions, occupied the central hills. But Sausalito was diverse even then. A vibrant working class and mercantile culture developed along Water Street (later to become Bridgeway), including Portuguese boatbuilders, Chinese shopkeepers, dairy ranchers, fishermen, Italian and German merchants, boarding house operators and railroad workers.
Source: http://www.sausalitohistoricalsociety.com/sausalito-history/
Some fun facts about Sausalito, California. Did you know that many famous people came from Sausalito? For example, these famous folk come from Sausalito:actor Bill Cosby as well as singers Jerry Garcia and Otis Reddings. So even if you don't live in Sausalito, but in El Cerrito, Mill Valley, San Leandro, Daly City, you can still be almost famous! Oh, and did you know this? Did you know? Sausalito takes its name for the "little willow" trees.