Dental implants are a popular way of replacing missing teeth. They look natural and highly effective, with scientific publications showing a success rate of up to 98%. Constructed of titanium, dental implants anchor your new tooth or teeth. Additionally, dental implants give you flexibility. Unlike dental bridges, dental implants give you the option of a removable or fixed solution to missing teeth.
San Francisco Dental Implant Center is here to help patients in the Pleasanton, CA, area access the dental implants they need. We can explain all the benefits of the procedure to you as well as walk you through the process. Keep reading to learn more.
What Are the Advantages of Dental Implants near Pleasanton?
When you lose a tooth, a space is left in your mouth. Bacteria can grow and breed in that space, causing oral hygiene issues. Also, tooth loss makes eating and speaking much more difficult, two things we usually don't even consider. Dental implants can improve the look and functioning of your teeth, lips, and mouth. But more importantly, your oral health will improve as that empty space is filled. Plus, the teeth around the implant don't have to be reduced like they do with dental bridges. And implants make it much easier to clean between teeth, which will mean less plaque and tartar in your mouth.
---
Contact us for a consult or call (415) 992-9188 now!
---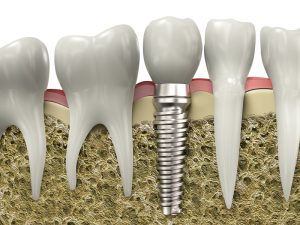 How Are Dental Implants Installed?
Before treatment begins, the dentist or oral surgeon must determine if you are a candidate for dental implants. The general rule of thumb is this: a good dental implant candidate can have a routine tooth extraction or other oral surgery without any issues. The right candidate will also have healthy gums and the right bone structure that will be able to support the implant. Lastly, the right candidate will be a person who exhibits proper oral hygiene and sees their dentist for biannual cleanings. If you are a tobacco smoker, suffer from a chronic illness, or have had radiation performed in the head and neck area, your candidacy will most likely have to be determined individually.
Once the patient is shown to be a candidate, the dentist or oral surgeon will design a customized treatment plan that looks out for the patient's needs. Before the new tooth can be placed, the implant goes into the bone socket left behind by the missing tooth. The patient then waits 6-12 weeks to give the jawbone enough time to heal around the implant. An abutment, which connects the implant to the new tooth, is installed on the implant. A dental professional will take impressions of your teeth, which are then used to design the new tooth or teeth. Also known as a crown, the replacement tooth is placed over the implant and abutment. The crown is the same shade as your other teeth, creating a natural look and feel. Local anesthesia can be used for patients with dental or surgical anxiety, but most patients reported far less pain with a dental implant than with a tooth extraction. Any pain or soreness following the procedure can typically be managed with ibuprofen or acetaminophen.
You can eat and live as you normally would without worries after your implant, as it looks and feels like your other teeth. Brush, floss, and care for your new tooth or teeth as you should. Dental implants are exceptionally durable, illustrated by the fact that they can last you the rest of your life when properly cared for.
Get in Touch With our Oral Surgeon for Your Dental Implants near Pleasanton
As you can see, dental implants can change the way you feel about yourself. But beware: you can end up with more problems than you had at the start if the implant needs to be placed the right way by a qualified dental professional. The residents of Pleasanton, CA, have the SF Dental Implant Center nearby. We can help patients with missing teeth feel good about themselves again with dental implants. There are plenty of dental implant providers in the Bay Area, so we make sure to provide a caring and friendly experience, setting ourselves apart from the pack.
We'd like to advise all potential patients that most dental insurance carriers will not cover the cost of dental implants. But some medical insurance policies may cover them, depending on exactly how you lost the tooth or teeth. If you want to be completely sure, contact your health insurance provider. Even if your health insurance doesn't cover the procedure, there's no need to worry. We have plenty of financing options, including CareCredit and Chase Health Advance. We believe as many people as possible should be able to afford the dental care they deserve. There are also no hidden charges; we charge one price with no hidden fees. If you pay off your bill within six months of your appointment, your financing will be interest-free. Please contact our office with any questions or concerns about dental implants or our financing options.
If you'd like to learn more about dental implants and find out whether you'd be a good candidate, please make an appointment with our office.