Modern advances in dental science now allow us to offer patients multiple options to help you enjoy a functional, secure, confident and beautiful smile — all in our office. One of the many safe, successful and affordable procedures is dental implants. It involves the installation of permanent replacement teeth supported by artificial dental root forms called dental implants. These tooth replacements look, feel and function like natural teeth. Dental implants have solved many problems associated with tooth loss that previously required replacement by removable full or partial dentures. With today's technology the cost of dental implants can make them very affordable!
Visiting Us from Palo Alto: Convenient Driving Directions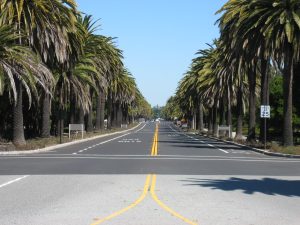 San Francisco Dental Implant Center is located not far from Palo Alto, California. Patients come to us from Palo Alto, as we offer some of the most affordable dental implants available in the San Francisco Bay Area. Getting dental implants can be a major investment, and it's worth it to get a second opinion. If you live in Palo Alto, our Dental Implant center is just a short drive away, well worth it as an investment for a consult and second opinion!
---
Contact us for a consult or call (415) 992-9188 now!
---
Driving Directions from Palo Alto to the San Francisco Dental Implant Center
Click here for directions to our Center from Palo Alto.
Get on US-101 North.
Continue on US-101 North towards San Francisco (approximately 31 miles).
Take exit 430A, to merge onto 280 North.
Continue on King Street / Take the Embarcadero Exit towards Sacramento Street
Parking, while expensive, is conveniently located near our center.
About Dental Implant Procedures
The procedure, referred to as osseo or biointegration, provides patients with the comfort and assurance of permanent teeth. Many patients find that dental implants restore their self-confidence and self-esteem and improve their quality of life.
Dental implants are changing the way people live! With them, people are rediscovering the comfort and confidence to eat, speak, laugh and enjoy life.
What does getting dental implants involve?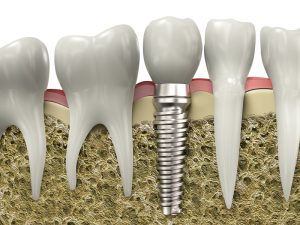 To get implants, you will need to visit the dentist several times over a few months. First, the dentist will take X-rays and impressions of your jaw and teeth to see if there is enough bone, gum tissue, and space available for the implant. While you're numb, the dentist will surgically place the implant into the bone and give it time to heal and attach itself to the bone, which can take up to six months. Depending on the type of implant, a second surgery may be needed to put the post in place to hold the artificial tooth.
After a few weeks of healing, the artificial teeth will be made and fitted onto the post portion of the anchor. This step may take one to two months to complete since several fittings may be required. Once the artificial teeth are securely attached to the implant, they will provide excellent stability and comfort to the patient.
When your treatment is completed, the dentist will give you instructions on how to take care of your new implant, including good oral hygiene, healthy eating habits, and regular dental visits.
Call the San Francisco Dental Implant Center today at (415) 992-9188, or email us at info@doctorrabinovich.com.