Dental implants are the most natural way of replacing missing teeth currently available. They are the base for your new tooth or teeth made with titanium. Unlike dental bridges, implants give you the option of a removable or fixed solution to missing teeth. If you live in Palo Alto, CA, the practice to choose to install your new dental implants is the SF Dental Implant Center. We can explain the benefits, walk you through the process, and show you why we're the oral surgeon to trust. Keep reading to learn more!
What Benefits Can I Expect to See?
The spaces left behind by missing teeth can quickly become breeding grounds for bacteria. In addition, missing teeth make for greater difficulty when eating and speaking. Dental implants can give you a better look, better speech, more comfort, and an easier time eating. But even better, your oral health is improved. You don't need to damage surrounding teeth to install dental implants – unlike dental bridges, which require reducing surrounding teeth. Implants also make for easier access between teeth, and cleaning plaque from these spaces is extremely important to oral health.
---
Contact us for a consult or call (415) 992-9188 now!
---
How Are Dental Implants Installed near Palo Alto?
First, the dentist or oral surgeon will determine if you are a candidate for dental implants. Typically, good candidates will be able to have a routine tooth extraction or other oral surgery without any issues. Healthy gums and a bone structure that will be able to support the implant are needed as well. And, of course, the right candidate will be someone who exhibits good oral hygiene and sees a dentist twice yearly for cleanings. If you smoke cigarettes, suffer from a chronic illness, or had radiation in the head and neck area, the dentist or oral surgeon will need to closely examine your medical history to determine if you're a candidate.
A customized treatment plan will then be developed by the dentist or oral surgeon, depending on the patient's individual needs. The first step is to place the implant in the bone socket that the missing tooth left behind. Then, you'll need to allow time for the jawbone to heal around the implant, which usually takes 6 to 12 weeks. A connector, an abutment, is then placed on the implant. Impressions of your teeth are taken and used to create a new tooth or teeth. The replacement tooth, a crown, is placed over the implant and abutment. We can match crowns for color to look like your other teeth. Your new tooth looks and acts like any other tooth in your mouth. Local anesthesia can be used for sensitive patients, but most people reported much less pain following an implant procedure than after tooth extraction. Any pain or soreness after the procedure can usually be treated with over-the-counter ibuprofen or acetaminophen.
You can eat and live your normal life without qualms after an implant, as it looks and functions like any other tooth. You'll brush and floss your new tooth as you normally would. Dental implants have great longevity. When taken care of properly, they can last a lifetime.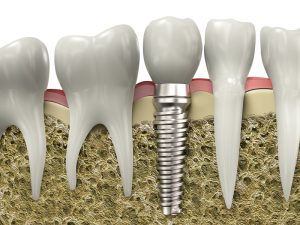 Choose an Oral Surgeon near Palo Alto to Place Your Dental Implants
As you can see, there are plenty of benefits to be had with dental implants. However, an improperly placed implant can cause more problems than it solves. But Palo Alto, CA residents don't need to worry since the SF Dental Implant Center is nearby. We can restore your missing teeth with dental implants. We know that there are many providers of dental implants in the Bay Area, so we provide quality services, friendliness, and a caring manner to separate ourselves from the rest.
Please note that most dental insurance carriers do not cover the cost of dental implants. But depending upon the cause of the tooth loss, your dental implants may be covered under some medical insurance policies. If you want to make sure, contact your health insurance provider.
Still, there's no need to worry if your insurance won't cover the cost of the implants. We have financing options for any budget, including CareCredit and Chase Health Advance. We want as many people as possible to get the dental care and self-confidence they deserve. There are no hidden charges to look out for; we charge one price with no surprise fees. If you pay off your bill within six months of your appointment, you will not be charged interest on the financing. Lastly, senior citizens always receive $250 off an implant procedure, and those getting two or more implants placed will always receive a $500 discount. Please call our office for questions about dental implants or our financing options.
If you'd like to learn more about dental implants and the benefits they can give you, contact us to schedule an appointment today. Call the SF Dental Implant Center today at (415) 992-9188, or email us at info@doctorrabinovich.com.