Modern advances in dental science now allow us to offer patients multiple options to help you enjoy a functional, secure, confident and beautiful smile — all in our office. One of the many safe, successful and affordable procedures is dental implants. It involves the installation of permanent replacement teeth supported by artificial dental root forms called dental implants. These tooth replacements look, feel and function like natural teeth. Dental implants have solved many problems associated with tooth loss that previously required replacement by removable full or partial dentures. With today's technology the cost of dental implants can make them very affordable!
San Francisco Dental Implant Center is located not far from Burlingame, California. Patients come to us from Burlingame, as we offer some of the most affordable dental implants available in the San Francisco Bay Area. Getting dental implants can be a major investment, and it's worth it to get a second opinion. Patients visit us not only from Burlingame but also from the surrounding cities of San Mateo, Pacifica, Redwood City, Palo Alto . Whether you live in Burlingame proper or San Mateo, Pacifica, Redwood City, Palo Alto- our Dental Implant center is just a short drive away, well worth it as an investment for a consult and second opinion!
---
Contact us for a consult or call (415) 992-9188 now!
---
The procedure, referred to as osseo or biointegration, provides patients with the comfort and assurance of permanent teeth. Many patients find that dental implants restore their self-confidence and self-esteem and improve their quality of life.
Dental implants are designed to provide a foundation for replacement teeth that look, feel, and function like natural teeth. After the procedure the patient regains the ability to eat virtually anything and can smile with confidence, knowing that teeth appear natural and that facial contours will be preserved. The implants themselves are titanium posts that are placed into the jawbone where teeth are missing. The bone bonds with the titanium or bioceramic surface coating on top of the titanium alloy, creating a strong foundation for artificial teeth. In addition, implants can help preserve facial structure, preventing the bone deterioration which occurs when teeth are missing.
Dental implants are a great way to replace missing teeth. Implants also provide excellent support and stability for removable partial or complete dentures when dental appliances are required.
Dental implants are changing the way people live! With them, people are rediscovering the comfort and confidence to eat, speak, laugh and enjoy life.
What does getting dental implants involve?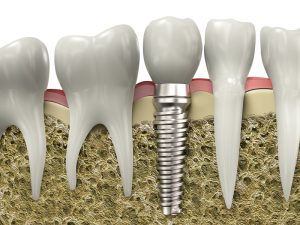 The process of getting implants requires a number of visits over several months.
X-rays and impressions (molds) are taken of the jaw and teeth to determine bone, gum tissue, and spacing available for an implant. While the area is numb, the implant will be surgically placed into the bone and allowed to heal and integrate itself onto the bone for up to six months. Depending on the type of implant, a second surgery may be required in order to place the "post" that will hold the artificial tooth in place. With other implants the post and anchor are already attached and placed at the same time.
After several weeks of healing, the artificial teeth are made and fitted to the post portion of the anchor. Because several fittings may be required, this step may take one to two months to complete. After a healing period, the artificial teeth are securely attached to the implant, providing excellent stability and comfort to the patient.
You will receive care instructions when your treatment is completed. Good oral hygiene, eating habits, and regular dental visits will aid in the life of your new implant.
If you have any questions, concerns, or would like to schedule an appointment at our San Francisco Dental Implant Center, please contact us today. We look forward to providing you with the personal care you deserve. Our office staff is friendly, knowledgeable, and here to help you with a smile.
Call the San Francisco Dental Implant Center today at (415) 992-9188, or email us at info@doctorrabinovich.com.
About Dental Implants and Burlingame, California
Multiple sources indicate that it was through William C. Ralston that Anson Burlingame became aware of the desirability of an estate on the Peninsula. Ralston, a founder of the Bank of California, made his fortune in the development of the Comstock Lode. He admired the Peninsula's warm, tranquil setting of oak-clad rolling hills nestled between San Francisco Bay and the Pacific Coastal Range and created his magnificent estate at Belmont. One of the many famous guests invited to Ralston's estate was the United States Minister to China, appointed by President Lincoln, the Honorable Anson Burlingame. Following Anson Burlingame's death in 1870, D. O. Mills became the guardian of the Burlingame estate, and according to a January 29th, 1872 map also on file with the County Recorder's Office, Mills sold the property to Ralston.
According to the account in Constance Lister's 1934 manuscript "A History of Burlingame," however, Ralston purchased the property where Burlingame now stands to the southern limits of the old Buri Buri Rancho from Joseph Henry Poett, who inherited the property from his son-in-law, William D. M. Howard. She further states that it was Ralston who gave Burlingame a site for a future town on his holdings west of El Camino Real to be known as the Town of Burlingame in 1868. This conflicts with an account in the San Mateo Gazette of June 13, 1874, which states that Messrs. Sharon and Ralston had just purchased 400 acres of Burlingame's land where they had begun plans to lay out a town.
Though some survey work was undertaken, and several local property owners hired John McLaren, head gardener for the Howard Family, to landscape their frontages on El Camino Real with elms and eucalyptus, no actual construction had begun by the time of Ralston's death in 1875. At that time the property was taken over by his partner, William Sharon, who used the property as a dairy farm to supply the Palace Hotel in San Francisco, which he had also acquired at Ralston's death.
Following the death of Senator Sharon, his son-in-law, Francis Newlands, assumed control of the property. It was Newlands who finally began the subdivision of the property, beginning with the Burlingame Country Club and the surrounding five cottages in 1893, and followed quickly by the creation of the Burlingame train station in 1894. A map, dated March 15, 1897 and titled Map No. 1 of the Town of Burlingame, showed the layout of the town covering the area from El Camino Real to Dwight Road and Peninsular Avenue to Burlingame Avenue. In 1901, the first two stores opened for business on Burlingame Square, across from the train station.
Source: http://www.burlingame.org/index.aspx?page=1741
Some fun facts about Burlingame, California. Did you know that many famous people came from Burlingame? For example, these famous folk come from Burlingame: musicians Tony Bennett as Paul Bostaph and Craig Chaquico jazz and new age guitarist. So even if you don't live in Burlingame, but in San Mateo, Pacifica, Redwood City, Palo Alto, you can still be almost famous! Oh, and did you know this? Burlingame is named after Anson Burlingame, who chose an 1,100 acres site for himself in the region. The town slowly developed, and by 1906 many people from San Francisco came and settled here.