Here's a welcome thought: it is possible that the cost of dental implants could be partly covered by your dental insurance. This is especially true if you work for a large corporation or for the government. We cannot say for certain until we have taken a look, but it is definitely worth your while to talk to us about it.
One of the things that we are well-known for at SF Dental Implants is our offer of an initial consult for anyone who is considering dental implants. Our doctor will examine you in order to check whether you are a suitable patient for dental implants (most people are, but a small number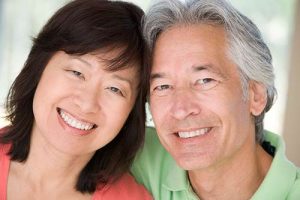 are not) and will answer every question that you may have about the procedure. At the same time, we can check your insurance, and we may well be able to offer you some good news as regards the cost, since dental implant insurance is often contained within certain policies.
If you are covered for dental implant insurance by your policy, we can obtain payment direct from your insurance company, so there is nothing for you to do at all.
A Range Of Payment Options for Implants
To be fair, not all policies cover dental implant insurance, but if yours does not there is no need to worry because at SF Dental Implants we have a range of different payment options to suit every budget. We firmly believe that a missing tooth, or missing teeth, should have 21st century treatment, and that means dental implants rather than old-fashioned bridges – which involve damage to adjoining teeth – or dentures. (Today, it almost seems that dentures went out with the dinosaurs!).
Dental implants quite literally replace your original teeth and function in exactly the same way. In some respects they are better than your original teeth since they won't ever need fillings, or come loose as your own teeth can.
The Premier Dental Implant Office In San Francisco, California
SF Dental Implants is widely regarded as the premier dental implant office in San Francisco and the whole of the Bay area. Our doctor, Dr Alex Rabinovich, is one of the leading oral surgeons in the United States, has written several professional papers on aspects of implants, and is frequently consulted by other dentists about the intricacies of implant procedures. In addition, he is highly qualified in Corrective Jaw Surgery, and Facial Reconstruction for people who have suffered major damage as a result of accidents. In short, he is one of the leading experts in his field.
In order to book your appointment for a consult with Dr Rabinovich, simply call us on (415) 992-9188 or click on the Contact Us link at the top of the page. When you attend for your appointment, be sure to remember to bring a copy of your dental policy along with you, and we can then ascertain if you are covered for dental implant insurance as well.