August 28, 2015 – San Francisco, CA. SF Dental Implant Center is proud to announce a major update to its informational page on Dr. Alex Rabinovich, an oral surgeon serving San Francisco Bay Area patients. Dr. Alex Rabinovich has the distinction of being a highly skilled surgeon with advanced training in medicine, dentistry, jaw surgery and facial reconstruction. The update to his informational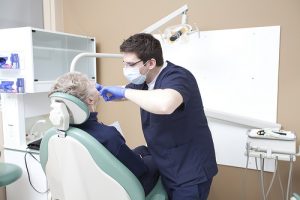 page on the website is meant to help patients start the process towards any type of oral surgery, including dental implants and jaw surgery.
"Each patient I meet is an individual with specific oral surgery needs," explained Dr. Ravinovch. "I have performed surgery on some of the most difficult facial reconstruction cases in my medical training. This knowledge helps me understand what each patients needs to walk away with a perfect, natural-looking smile."
To read more about the oral surgeon's credentials, as well as information about dental implants and tooth replacement. There, one can watch videos and learn more about professional jaw surgery and dental implant surgery in the Bay Area. Dr. Rabinovich also offers consultation services, which one can reserve via the website.
Dental Implants Are More than Just a Pretty Face
San Francisco residents want a beautiful smile to display in greeting. Sometimes through a traumatic accident, genetics or a bad oral history, some people may be ashamed to show their teeth. Dentures or braces may not be the proper decision for an individual. Many times dental implants are the best and only choice. Creating the best smile is more involved than implanting perfect white teeth. Each face has a bone structure with natural differences that an oral surgeon must be aware of to successfully replace teeth. Specific skills in facial reconstruction surgery is a bonus to anyone searching for dental implant services.
SF Dental Implants has a true specialist in Dr. Alex Rabinovich who is an oral surgeon experienced in traumatic reconstructive facial procedures. This easily translates to the perfect alignment of jaw and teeth to produce a strong, natural smile. If it is a few teeth, or an entire mouth needing implants, Dr. Rabinovich understands the specific details that will produced a brilliant smile for San Francisco Bay Area residents.
About San Francisco Dental Implant Center
San Francisco Dental Implant Center, under the direction of Dr. Alex Rabinovich, focuses on the placement and restoration of dental implants, making its team among the most experienced in the Bay Area. Dr. Rabinovich is a Board Certified Oral and Maxillofacial Surgeon specializing in the field of dental implants. This additional training, along with his years of experience, sets Alex Rabinovich MD DDS apart from the growing number of general dentists offering dental implant treatments. Dr. Rabinovich provides services for the San Francisco Bay Area, Peninsula and surrounding North Bay Cities.
Contact:
San Francisco Dental Implant Center, Media Relations
Web: https://www.sfdentalimplants.com/
Email: info@doctorrabinovich.com
Tel. (415) 992-9188