As a result of the pandemic, many businesses in San Francisco are shut down, but at San Francisco Dental Implant Center we are not.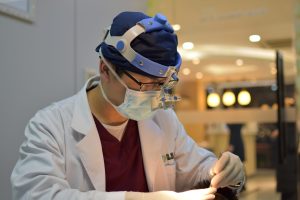 Now, quite obviously, we are adhering to all state and federal guidelines, and taking extra precautions regarding hygiene, such as disinfecting door handles, wearing full PPE, and much more. It figures, because we want to be safe in the same way that we want our patients to be safe, so we are ultra-careful.
The fact is that you cannot always put off dental work, especially if you have loose teeth or missing teeth, and we are here to help. Our doctor, Dr Alex Rabinovich, is a foremost dental implant surgeon not just in San Francisco, but in the greater Bay Area, and is are here to help all patients who need dental implants in San Francisco, California – pandemic or no pandemic.
The fact is that, for most people, missing teeth creep up on you slowly. You lose one here and then perhaps a few months or even a year later you lose another one there. One day you suddenly realize that you cannot eat corn on the cob or rump steak, because you don't have teeth in all the right places.
There Are Some Answers to Teeth Issues
Now there are some answers, such as dentures. But they have some serious drawbacks. Another answer is a bridge, but unfortunately that means that you have to have the two perfectly good teeth on either side of the missing one cut down in order to support the bridge. We don't know about you, but to us that doesn't seem like such a great idea.
But dental implants in San Francisco, California, solve all your problems, full stop. They work in exactly the same way that your original tooth or teeth did. In fact, they are as close to the real thing as you can get. What happens is that the implant, which is a screw made of titanium, is inserted into your jawbone where the root of the original tooth was. Over the next few weeks, or perhaps three or four months, the jawbone grows tightly around the implant in a process known as osseointegration, so that it cannot move and becomes just like the original root. Then a crown is attached to the top of the implant and – hey presto – you have a tooth back again! It's clever, and it works.
If you think that dental implants in San Francisco, California, could solve your problems, our doctor is happy to offer all patients a consult. Just click on the link at the top of the page to book an appointment.