May 25, 2016 – San Francisco, California. San Francisco Dental Implants, a top-rated dental implant center in San Francisco, California, is proud to announce the completion of an innovative dual update strategy for oral surgeon, Dr. Alex Rabinovich. Dr. Rabinovich operates the San Francisco Dental Implant Center and is known as a top-rated oral surgeon in the Bay Area for dental implants. In addition, the company has updated his parallel website on his oral surgery practice, which includes other areas of oral surgery such as the removal of wisdom teeth and orthognathic (jaw) surgery.
"Patients come to me as an oral surgeon for many different reasons," explained Dr. Alex Rabinovich of San Francisco Dental Implants. "First and foremost, I am known as an oral surgeon who specializes in dental implants for San Francisco Bay Area. Due to the competitive environment, that is why we have one website that is very focused on this area with an information page on me as the surgeon. In addition, however, as an oral surgeon, I perform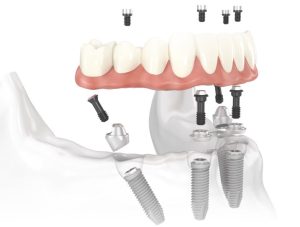 many other operations that are not dental implants such as wisdom teeth extraction. So as to not confuse patients, we have updated the parallel oral surgery website."
To view the newly updated oral surgeon site, please visit oral surgeon webpage.  To view the page on the dental implant site that is specific to Dr. Rabinovich as an oral surgeon, visit https://www.sfdentalimplants.com/meet-the-doctor/. Patients are advised that each individual is unique, and so a consultation is recommended to determine what procedure is best for them.
Oral Surgery: More than Wisdom Teeth Extraction
The reality for many people is that their first, and often their only, interaction with an oral surgeon can be wisdom teeth extraction. That said, the burgeoning technology of dental implants is bringing more people back into contact with oral surgeons. However, specialized situations such as a requirement for bone grafting, TMJ disorder surgery, or sleep apnea issues are also the specialty areas of many oral surgeons. That said, many people are not sure what type of oral surgeon they need, and the average lay person is easily confused. By updating these parallel websites, Dr. Alex Rabinovich and the San Francisco Dental Implant Center are making it easy for patients to obtain the information they want, online, whatever website they visit.
About San Francisco Dental Implant Center
San Francisco Dental Implant Center is located in the Financial District of the City. Under the direction of Dr. Alex Rabinovich, SF Dental Implants focuses on the placement and restoration of dental implants, and tooth replacement making its team among the most experienced in the Bay Area. Dr. Rabinovich is a Board Certified Oral and Maxillofacial Surgeon specializing in the field of dental implants. This additional training, along with his years of experience, sets Alex Rabinovich MD DDS apart from the growing number of general dentists offering dental implant treatments. San Francisco Dental implants serves all neighborhoods in the city of San Francisco including Pacific Heights, Russian Hill and Noe Valley.
Contact:
San Francisco Dental Implant Center, Media Relations
Web: https://www.sfdentalimplants.com/
Email: info(at)sfdentalimplants(dot)com
Tel. (415) 992-9188