San Francisco, California – October 30, 2019.  San Francisco Dental Implants, a professional clinic led by Dr. Alex Rabinovich, DDS, MD, is proud to announce a new blog post on the importance of choosing a specialist in dental implant issues.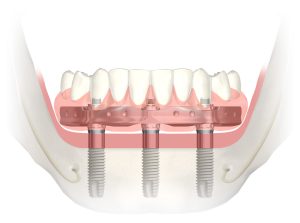 The new post can help Bay Area residents consider the consequences of choosing a rookie to manage dental implants. The goal could be to save on surgery cost, but choosing an apprentice over an expert could cost more in the long run.
"There are some services that people go to save a few dollars, and we understand why. The Bay Area is an expensive place to live. We want to remind the community that people should think twice before trying to cut corners on dental implant surgery," explained Dr. Alex Rabinovich, chief oral surgeon of San Francisco Dental Implant Center. "The long-term results of shoddy implant work can cost more in the long run. We've had to fix some of those mistakes, and we know what can happen."
To review the new post from San Francisco Dental Implant Center, please visit https://www.sfdentalimplants.com/blog/san-francisco-dental-implant-center-announces-post-on-finding-dental-implant-specialists-in-the-bay-area/. Bay Area residents considering a non-specialist to cut back on dental implant costs might need to re-evaluate the decision. The post explains the value of paying for a specially-trained oral surgeon to manage teeth, jaw, and bone problems. The extensive experience could equal successful dental implant surgery. An expert can manage unexpected complications when performing multi-teeth implants. To learn more, interested persons can visit the 'Teeth in a Day' page at https://www.sfdentalimplants.com/replacing-all/. It may help to contact the clinic for a no-cost, no-obligation consultation to learn the options for affordable dental implants.
SAN FRANCISCO RE-EVALUATES THE PRICE OF CUTTING CORNERS TO PAY A DENTAL IMPLANT COST
Here is the background for this release. Bay Area residents might find clever ways to help stay on budget to get the services desired. If a resident needs a haircut and color, the price tag at a high-end salon might be too much. Indeed, a San Francisco local might choose a beauty school apprentice to receive the same treatment for a quarter of the cost.
Reaching out to a novice may be fine in some cases, but medical services, including oral surgery, can require the skill of a fully-trained expert. People concerned about the dental implant cost could try to 'cut corners' and visit a lesser-skilled general dentist for a cheaper rate. The plan may result in poorly executed oral surgery.
Dental implant surgery can vary for each individual. A man struggling after a traumatic accident might need to replace an entire row of teeth. A woman with gum disease might require special treatment before replacing a tooth. Bay Area residents need to balance concern about dental implant costs with quality of care. A monthly payment plan could help dental implant surgery remain affordable. For these reasons, San Francisco Dental Implants announces a new post about the price of choosing an amateur to manage dental implant surgery.
ABOUT SAN FRANCISCO DENTAL IMPLANT CENTER
San Francisco Dental Implant Center, under the direction of Dr. Alex Rabinovich, focuses on the placement and restoration of dental implants, making its team among the most experienced in the Bay Area. Dr. Rabinovich is a Board Certified Oral and Maxillofacial Surgeon specializing in the field of dental implants. The new Trefoil dental implants have been added to the list of procedures the professional oral surgeon provides. This additional training, along with his years of experience, sets Alex Rabinovich MD DDS apart from the growing number of general dentists offering dental implant treatments. Dr. Rabinovich provides services for the San Francisco Bay Area, Marin County, Peninsula, and surrounding North Bay Cities.
Contact:
San Francisco Dental Implant
Center, Media Relations
Web. https://www.sfdentalimplants.com/
Email. visage.sanfran@gmail.com
Tel. 415-817-9991