The Noe Valley neighborhood in San Francisco is one of its calmer, more "family-friendly" neighborhoods. Many young families start out here. But even younger couples can have teeth issues, and if you're looking for dental implants in Noe Valley, your best bet is San Francisco Dental Implant Center which is in the financial district.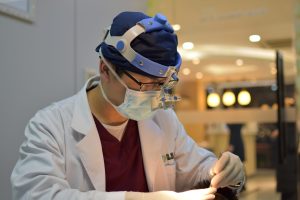 It's only a short drive, and we are run by a specialist doctor – oral surgeon  Alex Rabinovich – who trained in dental implants, among other specialties, and has many years of experience in practice.
It is far the better option to use a specialist doctor for dental implants in Noe Valley rather than a general dentist who has taken a weekend course on the subject. We use the very latest 3D scanner to get a full view of your jawbone which helps us to avoid damaging any nerves. Furthermore, we only use the very finest implants made by Nobel Biocare as opposed to the cheaper imports which are available elsewhere. Let's face it: when you have dental implants, you want the very best that you can get because you want those implants to last. This is especially true when you are younger: you don't want to be running backwards and forwards to the dentist to get an issue fixed.
The 21st Century Answer To Missing Teeth
Dental implants are the 21st century answer to missing teeth because they are as near as you can get to the original teeth. Even if you only have one tooth missing, a dental implant is better than something such as a bridge. Those require the teeth on either side of the missing one to be cut down in order to support the bridge, so in effect you are damaging two teeth in order to replace the third.
As for dentures, those can cause all sorts of issues. They can slip and slide about, and you can't eat certain foods with them, such as nuts, apples, and so on. There are even cases where people with dentures have laughed out loud at a joke and the dentures have fallen out of their mouth! That is seriously embarrassing.
As for the cost of dental implants in Noe Valley, it is possible that your insurance may cover part of it. However, even if it does not, at San Francisco Dental Implant Center we can offer you a wide choice of different financial options including one that incurs no interest if paid off within 6 months. We work with multiple health care financing companies, so there is bound to be one which will fit in with your budget. We also accept all major credit cards.