It took you YEARS to grow your teeth, as people have two sets – your baby teeth, and then later, your adult teeth.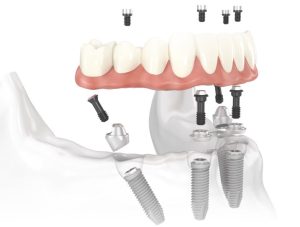 Well, if you've unfortunately had a lot of teeth problems, you might want a "third set" but you won't have to wait for years. If you qualify, you can get them the same day! Yes, you can get what are known as "teeth in a day in San Francisco".
It may seem unreal, but the fact is that with the technology that we have today with dental implants you can now get a complete new set of teeth giving you a brilliant white smile the very same day. You sit in the chair in the morning and you walk out with a completely new set of teeth in a day in San Francisco in the afternoon.
No Dentures Slipping About!
Imagine this. No longer do you have dentures slipping and sliding about in your mouth and being unable to fully taste your food. No longer do you have the risk of them falling out of your mouth when you throw your head back and laugh out loud at a great joke. That has happened to a lot of denture wearers, and there can be nothing more embarrassing. It might even have happened to you.
No longer do you have to take your dentures out at night and soak them in a cleaning fluid, because you won't have dentures! You will have a full set of perfectly performing and perfectly white teeth that are just like the ones that you had age 12, or they may even be better. This is because they will be perfectly formed and will perform in the same way, so you can chew and eat foods that you may not have been able to for years. Nuts? Corn on the cob? Yes, you can eat those once again! Just think about that for a minute.
Here at San Francisco Dental Implant Center our doctor, Dr Alex Rabinovich, is one of the foremost dental implant specialists in the world. That is not merely bragging: He is often asked to speak about dental implants and maxillofacial surgery at dental and surgical conventions, so he is the implant specialist that others listen to when they want to learn more. You could not possibly be in better hands.
So if you want to consider teeth in a day in San Francisco, talk to Dr Rabinovich. He offers all patients an initial consult with no obligation when he can answer all your questions. Book yours by clicking on the Contact Us link at the top of this page.