Finding the best dental implant specialist in San Francisco, California, is easy. You just Google "San Francisco Dental Implant Center" and you will find us right here in the Financial District.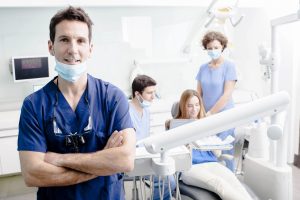 Our name says it all really, and it is what we do. All day and every day. Our doctor, Dr. Alex Rabinovich, has many years of experience of providing dental implants to patients of all age groups and of many different ethnicities.
Not only are we among the best dental implant specialists, but we are also affordable. We firmly believe that dental implants should be available to all. They are the 21st century answer to missing teeth. Whether you are just missing a single tooth or lots of teeth, dental implants have so many advantages over the alternatives.
For instance, you can have dentures, or you could have a bridge. Unfortunately, dentures have a nasty habit of slipping about in the mouth, and they can feel uncomfortable, certainly when you first use them. A bridge involves cutting down two perfectly good teeth on either side of the missing one in order to hold the bridge: who wants to do that to two teeth which have nothing wrong with them?
This Is How Dental Implants Work
When you set about finding the best dental implant specialist in San Francisco, California, we can explain to you how dental implants work. The implant itself is a screw made of titanium and it is inserted into the jawbone. Over a period of several weeks, the jawbone grows tightly around the titanium screw so that it cannot move. A crown is added on to the top of the titanium screw and that's it. Job done. You now have a tooth which looks exactly like the original and works in the same way as the original.
Finding the best dental implant specialist in San Francisco, California, is important because, apart from any other consideration, you need the best dental implants. Some dental surgeons use implants which are imported from overseas, but we would never use those. We only use implants that are made here in the US by NobelBiocare. They are without doubt the top brand and that is what you want. You want dental implants that are going to last.
Nonetheless, our dental implants are affordable, and if you need finance, we also provide all patients with a huge choice of different financing options. Some of these plans carry no interest if paid off with in 6 months. So, when we say that our dental implants are for everyone, they are indeed for everyone.