The Sunset District of San Francisco lies on the west side and is often known as 'that foggy area outside of the $2.25 Lyft zone'. It is largely residential but has lots of great restaurants. However, everything shuts down early and there is hardly any nightlife.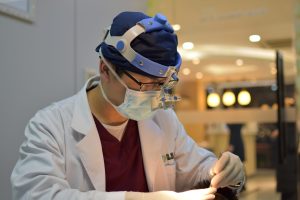 The Sunset District is home to Golden Gate Park and is a great place to go at the weekends when it is filled with families watching children's sports games or cooling with a barbecue. There is also Mount Sutro which is a dense eucalyptus forest some 900' high, and from the top, you get a view of the entire city. If you are the area on a Sunday, there is a farmers' market where you can buy local produce including cheese and grass-fed beef.
However, if you are looking for dental implants in Sunset District there are very few dentists or dental surgeons because it is mostly residential. This is why many residents come over to the Financial District where you will find San Francisco Dental Implant Center in Sacramento Street.
The Very Latest Equipment
Our doctor, Dr. Alex Rabinovich, has many years of experience in providing patients with dental implants in our state-of-the-art office. We use nothing but the very latest equipment, including a 3D CAT scanner which we use for diagnosis and which provides us with a close look at the jawbone, nerves, and tissue, enabling the placement of an implant to be decided with absolute precision. It also lets us choose the right size and type of implant to use. We only ever use the very best dental implants and not any of the cheap imported ones. After all, if you want dental implants in Sunset District you want ones that are going to last.
We are also one of the very few dental surgeries in San Francisco to be able to offer the new Trefoil system of dental implants produced by Nobel Biocare. This allows us to provide "teeth in a day" with the Trefoil system supported on just three implants. Yes, you can have all your teeth replaced with dental implants and be functional the same day. You will also be pleased to learn that the Trefoil system can be a lot less expensive than more traditional dental implants, which means that it can be affordable to a wider section of the public.
Dr. Rabinovich is happy to offer all patients a consult, so if you are considering dental implants in Sunset District make an appointment so that all your questions can be answered.