We love dentists! We really do love dentists! We also love truck drivers, brain surgeons, and the local folks who make incredible lattes at Peet's Coffee here in San Francisco.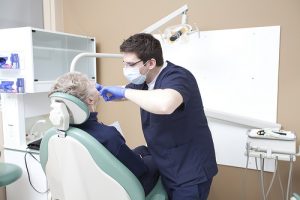 However, we also believe that everyone should specialize, and we specialize in dental implants, not driving trucks, doing brain surgery, making lattes, or filling cavities and doing root canals. It's a fact that there are some San Francisco dentists who do dental implants, but it is also a fact that they probably don't do them very often. So most of the time they are doing general work.
We don't. We are perfectly capable of doing root canals and filling cavities, but we don't. We spend all our time doing dental implants which is why we are so good at it. Furthermore, we have specialist equipment which San Francisco dentists who do dental implants may very well not have. For example, we have a 3D CAT scanning machine which is far superior to an X-ray. This provides three-dimensional and cross-sectional views that allow our oral surgeons and their team to:
· Examine the quality and density of the bone that will anchor the dental implant
· Determine the proper treatment approach for each individual patient
· Determine the precise placement of implants
· Select the correct type and size of the implants
· Avoid the nerves and sinuses
We also have a specialized dental implant lab, which sets us apart from traditional general dentistry providers.
Think about it like this: if you had just invested $335,000 in the new Rolls-Royce Cullinan you wouldn't take it down to Joe's Autos on the corner when it needed a service. You would take it to the experts – the Rolls-Royce dealers you bought it from in the first place.
So It Should Be With Dental Implants
So it should be with dental implants. We are talking about a specialist treatment to your body, and you only have the one, so you want the finest treatment that there is. You also want the finest materials: this is going into your mouth, so you don't want cheap imported implants.
Our doctor, Dr Alex Rabinovich, is a specialist here in San Francisco and carries out dental implant work every single day. So while there are San Francisco dentists who do dental implants as well as fillings and root canal treatments, we trust we have convinced you that then it comes to dental implants you do need an expert.
Our doctor is very happy to offer all patients with a consult so that you can have all your questions answered. Book yours by calling the office on (415) 992-9188 or click on the Contact Us link at the top of the page.