If you are suffering from missing teeth, the perfect answer is to have dental implants. They are as near as you can get to the original tooth or teeth and work in exactly the same way.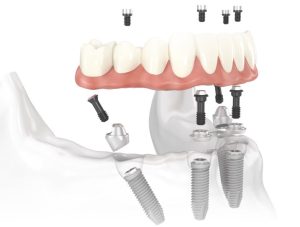 Certainly, there are other ways of replacing missing teeth. For example, for many years we have had dentures, and the fact is that they can look extremely good. However, they do have issues. There are limits to what you can eat when you are wearing dentures, and they do have an unfortunate habit of slipping about when you eat.
Another option is a bridge. That is, if you don't mind having two perfectly good teeth on either side of the missing tooth cut down in order to support the bridge in the first place.
The principle behind dental implants is easy to explain. What happens is that a titanium screw is inserted into your jawbone and over a period of a few weeks to some months the jawbone will grow tightly around the titanium screw until it effectively becomes one. The process is called osseointegration. This is just like the original tooth root.
Then a crown is affixed to the dental implant and – hey presto! – you have a new tooth. There is even a new procedure today whereby you can have all the teeth on a jawbone replaced with dental implants in a single day!
The Best Is Never "Cheap"
Of course, at San Francisco Dental Implant Center we have to admit that dental implants are not "cheap". Of course, the best of anything never is, and we only use the very best dental implants – not any of the foreign imports which cost a little less but are still not "cheap".
However, the good news is that your dental implants might be covered – either wholly or partially – by your insurance. Our team here will work with your insurance company if that is the case.
However, what if they are not? Can you have dental implants without insurance?
The answer to that is a resounding "yes". At San Francisco Dental Implant Center we take cash, and we accept all the major credit cards. Can you have dental implants without insurance if you don't have a credit card and don't have sufficient cash?
Again, the answer is "yes". We offer a very wide choice of different payment and finance options. These plans include some with no interest chargeable if they are paid off in 6 months. Whatever your issues over dental implants without insurance, we have got you covered. We do not believe that anything should prevent anyone from having the very best replacements for missing teeth.