Back in the day, there used to be a lot of Japanese immigrants in Japantown, but since WWII that has really become less.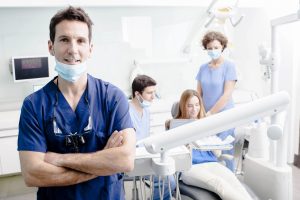 However, there is still a vibrant Japanese community there in this area also known as Nihonmachi. There are sushi, ramen, and shabu-shabu restaurants, Asian-style day spas, karaoke bars, and gift shops. There is also the plaza with its 5-tiered Peace Pagoda which hosts events such as the Cherry Blossom Festival.
If you live in Nihonmachi and you are looking for dental implants in Japantown, then you need to come over to the Financial District. You could walk over here in a half hour or less and you will find San Francisco Dental Implant Center in Sacramento Street. You could also drive over and park in the Embarcadero Center just opposite.
As our name suggests, we are specialists in dental implants. Our doctor, Dr Alex Rabinovich, has years of experience with dental implants, so you could not possibly be in better hands.
The 21st Century Answer
When it comes to dental implants in Japantown, you may know that they are the 21st century answer to missing teeth. Unfortunately, as we grow older, most of us start to lose teeth, and this can cause considerable embarrassment for many people, and also can cause practical difficulties with the everyday process of eating. You may get to a point where you can't eat things such as nuts, corn on the cob, and many other foods for the simple reason that you can't bite as you once did.
To be fair, some people go for a cheap option such as dentures, and these can certainly help with the embarrassment side of things in that they look like teeth. However, when it comes to practical things like eating, they can have distinct limitations. Indeed, they can slip and slide about when you eat, and you still won't be able to eat a lot of foods.
Dental implants are not "cheap" in the accepted sense of the word, but they are the unrivalled answer in the 21st century. They work in exactly the same way as your original tooth or teeth did, so you have the perfect smile, and you can eat anything that you want. Furthermore, if you are looking for dental implants in Japantown, we have a wide range of different finance options available. Our doctor firmly believes that the cost of dental implants should never prevent anyone from having the best answer for missing teeth.