Marin County is known for its stunning vistas. It's a very wealthy enclave in the Bay Area, although not everyone is wealthy.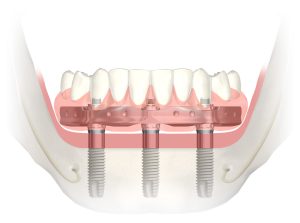 Another issue is that it tends to have lots of housing (relatively speaking) but not so many specialized services, such as dental implants. However, if you are looking for Marin County dental implants it is only a short drive over the Golden Gate Bridge to the Financial District of San Francisco.
This is where you will find San Francisco Dental Implant Center. Our name is a bit of a giveaway really, isn't it? Dental implants are what we do, and our doctor, Dr. Alex Rabinovich, has been providing patients with dental implants for years. And not just Bay Area dental implants, but Marin County dental implants too.
Our specialty is restoring your smile with top quality, yet affordable, dental implants. For those considering dental implants who are unsure of how they work, the implant itself is a titanium screw which is inserted into the jawbone. This provides a firm base for replacement teeth which are mounted on top of the implant and will look, feel, and function exactly as the original tooth did.
When you have dental implants, you can eat foods that you may not have been able to eat for years. Nuts, corn on the cob, all those tough and chewy foods – no problem. You can laugh and smile and nobody will know that you have got dental implants – unless you tell them, of course.
Replace One Tooth Or All Of Them
The beauty of dental implants in the Bay Area is that you can replace one missing tooth, half a dozen, or a whole mouthful of missing teeth in a procedure which is known as "all on four". Just four dental implants inserted correctly can provide the support for all the teeth on a jawbone.
At San Francisco Dental Implant Center we only use the finest dental implants that are manufactured here in the US by NobelBiocare. We want your dental implants to last, so we won't use foreign imports, which some others do. Nevertheless, our dental implants are affordable because we believe that they should be available to all. There is just no comparison when it comes to dental implants. Forget a bridge or dentures – they are so 20th century!
Some people do look for cheap dental implants, but really what you want is the finest quality at an affordable price and that is what we provide.
If you are looking for Marin County dental implants, then make an appointment to see our doctor for a consult when he can answer all your questions.