blog | September 24, 2014 – San Francisco, CA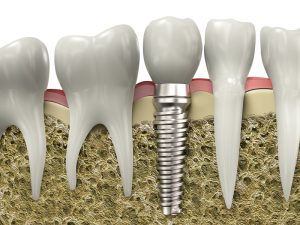 Dental implants are by no means the cheapest option for replacing missing teeth. Many patients replace only a single tooth whereas others need a whole mouth dental implant procedure. However, when compared with alternative treatments such as a bridge, or dentures, they are by far and away the best option. Comparing dental implants with dentures or a bridge is rather like comparing a Cadillac with a bicycle: both will get you to where you want to go, but we know which method we would prefer.
If you replace missing teeth with dentures, you have the discomfort of something alien being placed in your mouth. Dentures also have an unpleasant habit of slipping and moving when you eat, and can still make eating things like corn on the cob very difficult. Another alternative is a bridge if you only need to replace one tooth. However, this involves cutting down the two teeth on either side of the missing one. In effect, you can be damaging two perfectly good teeth to replace one. Many San Francisco residents find dental implants surprisingly affordable, and our consultation means there is low risk to exploring this option!
A Dental Implant Works In The Same Way As Your Natural Teeth
A dental implant, on the other hand, is a fixture in your mouth and works in exactly the same way as the original tooth. A titanium screw is inserted into the jawbone and over a period of time, the bone will bond to it. A permanent ceramic replacement tooth is then fitted to the titanium screw and operates in exactly the same way as the original tooth, with the big difference that it cannot later fail in the same way as your natural tooth.
Dental implants certainly do cost more than other forms of treatment, and San Francisco Dental Implant Center is not the cheapest provider in the Bay Area. Cheap dental implants implies low quality. We aim simply to provide the best value in the San Francisco Bay Area, and we only ever use top-class materials for our dental implants.
As to the question of affordability, we go the extra mile in order to ensure that every patient can have the first-class treatment that he or she deserves, whether they live in San Francisco, San Mateo, Oakland or elsewhere in the Bay Area.
Our practice accepts payment through most of the dental insurance programs that are used by local employers. Many of the tech startups in San Francisco, for example, offer really good dental insurance that may help pay for the cost. If there is any balance payable, we have a selection of different financial options available.
To begin with, we offer an initial consultation. We offer $250 off a dental implant for senior citizens, and will offer $500 off two or more implants.
Leading Healthcare Finance Providers
We work with a number of leading healthcare finance providers, and we can offer you a choice of different plans. One of these plans is available without any interest added if it is paid off within 6 months. We accept all major credit cards. Our finance providers include Chase Health Advance and CareCredit.
As we said, San Francisco Dental implant Center is not the cheapest provider in the San Francisco Bay area but we are by no means the most expensive. Our aim is to provide the finest treatment available anywhere at an affordable rate. We also quote you a price which covers absolutely everything for the treatment you need, so there will be no hidden charges arising later on.
Dental implants are most definitely the best way of replacing missing teeth, and we believe that this form of care should be available to all. Join the hundreds of other happy patients who have found it worthwhile to make the trip to our office. Give us a call for your initial consultation with Dr Rabinovich now. Call us today at (415) 992-9188 or schedule a consultation.