In order to get the best of anything you need to employ the services of a specialist. For instance, if your home needs re-roofing you might find that a general builder could do a reasonable job.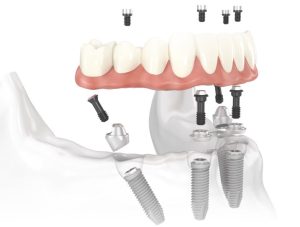 However, you wouldn't call in a general builder – you would hire a roofing company that specializes in roof repairs and nothing else.
Similarly, if you needed a brain operation you would get a brain surgeon to perform it rather than your doctor.
Precisely the same thing applies to dental implant surgery. An average oral surgeon might be able to do a dental implant, and some dentists will offer to do dental implants as well. However, if you want to be certain that you are getting the best – and when it comes to dental implants you most certainly do – you need to see the best dental implant specialist: someone who undertakes dental implant work every day and has done for many years. That way you can be confident that you are in the hands of an expert and that you will receive nothing short of the best dental implant treatment available anywhere.
A Specialist In Dental Implants in SF
Dr Alex Rabinovich at SF Dental Implant Center is such a specialist. If you needed a filling Dr Rabinovich could certainly carry out such a minor operation, but he doesn't. He spends all day carrying out dental implant surgery and has been doing it for so many years that it would be almost fair to say that he could do it with his eyes closed!
Furthermore, as the best dental implant specialist, Dr Rabinovich insists on using only the very finest materials available. As with many other things, there are cheap imports of dental implant materials available, but Dr Rabinovich refuses to use them. He firmly believes that when you have dental implant surgery you want those implants to last for the rest of your life, and therefore it follows that you need not just the best dental implant surgeon but the very best materials too.
Competitive Fees (*Not Cheap Dental Implants in San Francisco*)
Dental implant surgery is not a cheap procedure, although Dr Rabinovich believes that his fees are extremely competitive, and he also offers discounts such as $250 off each implant for seniors and $500 off any multiple implant service. In addition, as the best dental implant specialist, Dr Rabinovich has a range of different payment options available because he insists that his dental implants should be affordable for everyone. He accepts all major credit cards and also most dental insurance programs offered by major employers in the Bay Area.
Furthermore, he offers multiple financing plans including CareCredit and Chase Health Advance, and has a plan that carries no interest if paid off within 6 months.
Additionally, Dr Rabinovich offers all patients an initial consult where he can answer all your questions. To book yours, just click on the Contact Us link at the top of the page or call the office on (415) 992-9188.