Daly City | Top Dental Implant Center & Oral Surgeon
Our dental implant center is an easy commute from Daly City!
Click to email us | call (415) 992-9188
~ free dental implant consult!
Address

129 Sacramento Street, Suite C
San Francisco, CA 94111
Hours

Monday – Friday: 9:00AM to 5:30PM
Phone

(415) 992-9188
Fax

(415) 233-0104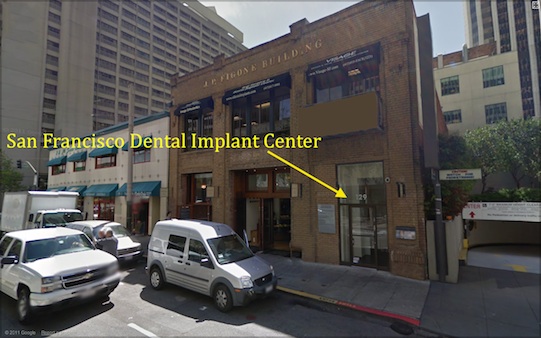 Daly City Dental Implant Center

Many of our patients come from Daly City in search of a top Daly City dental implant center or a top Daly City oral surgeon for dental implants. Guess what? Many of them take the easy trip from Daly City to San Francisco in search of affordable dental implants and a top oral surgeon, our very own Dr. Alex Rabinovich. While technically we are located in San Francisco, Daly City is not that far; and for an important procedure like dental implants, the easy commute from Daly City to our San Francisco office is worth it.

If you are looking for a top Daly City oral surgeon and dental implant center, make the commute. For affordable dental implants in Daly City – you'll be glad you did!
About Daly City

What you see today is a work-in-progress to celebrate the approaching Centennial of Daly City in 2011.

The museum is located in the original John Daly Library near the historic site of the John Daly Dairy Farm where refugees fled after the 1906 San Francisco earthquake and fire. This area is the oldest part of Daly City. In 1920 a permanent library was situated in a small 25'x25' wood frame building donated by Daly City's namesake, dairyman John D. Daly, and early entrepreneur John William Marchbank.

In 1938, the original one-room building was moved back against the cliffs of the old quarry when the library was expanded with a front addition in Art Deco style. This unique vintage building was the only library in Daly City for over 41 years and combines two buildings into two adjoining great rooms with a combined space of 2,400 square feet.

Source: http://www.dalycity.org/About_Daly_City/History_Guild.htm