It's a fact that many people either didn't, or couldn't, take proper care of their teeth when they were younger, despite what our parents may have told us and even though they may have scolded us.
The result is that many people suffer from tooth decay as they age, which leads to missing teeth.
Dentures Or A Bridge in San Francisco
Until a few years ago, the only answers were dentures, or perhaps a bridge. Unfortunately,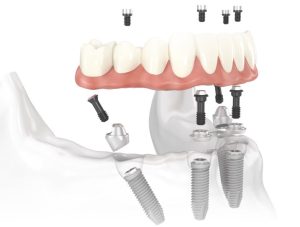 dentures have a nasty habit of slipping about as we eat: they also have to be taken out at night and sterilized in a glass. A bridge involves cutting down two perfectly good teeth on either side of the replacement in order for it to be fitted. Neither of these processes could be described as satisfactory, and in many instances were not permanent.
Fortunately, technology has come to our aid. Now you can have dental implants which don't cause damage to adjoining teeth, won't slip or slide, and should last as long as you do. Isn't technology wonderful?
So Far Advanced – Dental Implant Center
Dental implants and dental care are so far advanced today that our parents wouldn't believe it. You can even have the "all-on-four" procedure where four – or up to six – implants are used to replace all of the teeth on a jaw. What's more, the surgery can be completed in a day, so you can have a brand new smile the same evening.
Dental implants and dental care today can perform wonders that seem almost like magic. Not only do dental implants perform in exactly the same way as the missing ones they are replacing, they are also not subject to decay, so once you have them you shouldn't ever have to worry about them again.
Specializing In Dental Implants And Dental Care
At SF Dental Implant Center, our doctor, Dr Alex Rabinovich, performs dental implant surgery every day. He does not carry out general dentistry, preferring to specialize in dental implant work, with the result that he has now carried out thousands of such procedures. So skilled is he that he has authored several medical papers on the subject and is frequently called upon to speak at dental conventions.
If you would like to know more about dental implant and dental care, Dr Rabinovich is happy to offer an initial consult. He will be able to assess whether you are a suitable subject for dental implants (most people are) and answer all of your questions, with no obligation whatsoever.
In order to book your consult with the doctor you can click on the Contact Us link at the top of the page, or call the office on (415) 922-9188.