Oakland, California – January 31, 2017. San Francisco Dental Implant Center, one of the Bay Area's top dental implant centers, is proud to announce an update to its informational page on Oakland dental implant services. Oakland residents needing dental implant surgery from a professional oral surgeon can, and should, realize that just a short trip across the Bay Bridge or BART tube under the Bay can bring them to a truly specialized clinic serving Bay Area dental implant patients.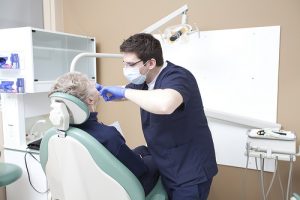 "Many of our patients live in Oakland or East Bay cities such as Berkeley, Piedmont, or even Walnut Creek. Sometimes they think driving over the bridge is the only way to visit our clinic," explained Dr. Alex Rabinovich of San Francisco Dental Implants. "We wanted to remind the Oakland community that there are several ways to travel to our San Francisco location. Other routes can also allow patients to enjoy the view during the trip such as the ferry or using BART, the Bay Area Rapid Transit system."
To review the updated informational page on dental implant services available to Oakland residents, view website. The newly revised page explains easy access to several modes of transportation for Oakland residents looking to have dental implant surgery by a top Bay Area oral surgeon (See Dr. Rabinovich's specialized website on oral surgery ). Driving over the Bay Bridge may not be the best choice for an Oakland resident going to an appointment. Travelling by ferry or BART could be the better choice. Information about various dental procedures such as bridges, single tooth replacement and tooth-saving procedures can also be reviewed on this newly updated page.
Dental Implant Center Specialists: A Point of Interest for Oakland Residents
San Francisco's Bay Area welcomes visitors from all over the globe. The city can be a major tourist attraction during a stay. Sightseers can map out specific points of interest to get the most out of a much-anticipated vacation. One popular excursion could be taking a ferry out on the Bay for a spectacular view of the city skyline. While tourists may marvel at the beautiful scenery, local bay area residents might too busy to look when driving over the bridge to a doctor's appointment. The main focus could be keeping eyes on the road to arrive at a dental implant center on time. It might be a surprise for Oakland residents to know there are more enjoyable ways to get to a dental implant specialist.
San Francisco Dental Implants, a top center for oral surgery has recently updated its Oakland informational page with multi-transit options. Driving to an appointment in San Francisco over the Bay Bridge may not be the best choice for some locals. SF Dental Implant Center has listed several modes of transportation for easier access, and possibly, a more enjoyable travel experience. Oakland residents have access to BART, AC Transit and ferries for traveling to and from an appointment for dental implants. Without needing to focus on the road, Oakland locals may have time to look out the window and appreciate the spectacular San Francisco skyline. Sightseeing in the Bay Area may not be at the top of the list for most locals when visiting an oral surgeon. A stress-free travel experience by ferry or BART can offer a few moments to look out the window and appreciate the City by the Bay.
About San Francisco Dental Implant Center
San Francisco Dental Implant Center is located in the Financial District of the City. Under the direction of Dr. Alex Rabinovich, SF Dental Implants focuses on the placement and restoration of dental implants, and tooth replacement making its team among the most experienced in the Bay Area. Dr. Rabinovich is a Board Certified Oral and Maxillofacial Surgeon specialist in the field of dental implants. This additional training, along with his years of experience, sets Alex Rabinovich MD DDS apart from the growing number of general dentists offering dental implant treatments. San Francisco Dental Implant Center serves the Bay Area including Oakland.
Contact:
San Francisco Dental Implant Center, Media Relations
Email: info(at)sfdentalimplants(dot)com
Tel. (415) 992-9188