San Francisco, California – January 3, 2019. San Francisco Dental Implant Center, the Bay Area leader in innovative dental implants, is proud to announce a new blog post to explain the uptick in traffic around the New Year for dental implant reviews.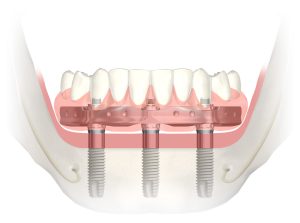 As people turn to self-improvement in January, searches increase for healthy items such as dental implants yet people want to know which providers are the top-reviewed.
"Online searches around self-improvement tend to rise around this time of year. Dental implant information is one of those popular searches, and we understand why," explained Dr. Alex Rabinovich, chief oral surgeon of San Francisco Dental Implants. "Dental implants can change the health and daily life of a person for the better. Our new post talks about these positive changes and the importance of reviews."
Interested persons can review the new post from San Francisco Dental Implants.  New Year resolutions might include improving personal oral health. A list of dental implant reviews from Bay Area locals could help guide a person in the right direction. To read more details about oral surgery including dental implants and tooth replacement. Those interested in oral surgery issues, more generally, can visit the sister website on oral surgery.
POSITIVE CHANGE IN 2019 START WITH BAY AREA DENTAL IMPLANT REVIEWS
Here is background on this release. The New Year can inspire people to focus on setting new self-improvement goals. Learning a skill or upgrading a personal style might be popular choices. A standard resolution can include improving one's overall health. If a Bay Area resident has decided to upgrade a smile, it could mean replacing broken or rotten teeth. Choosing the best oral surgeon to provide great dental implants may be the next goal.
Bay Area locals could find positive dental implant reviews from other patients helpful.
Good oral health can change one's life for the better. Straight teeth and healthy gums could be a great start to the New Year. Choosing a top oral surgeon might include scanning online reviews of patient experiences. Important stories about excellent patient care, innovative dental implant materials, and quality dental surgery can be helpful. Bay Area locals ready for a change in 2019 might find dental implant reviews the first place to start. For these reasons, San Francisco Dental Implants has announced a blog post about dental implant reviews.
ABOUT SAN FRANCISCO DENTAL IMPLANT CENTER
San Francisco Dental Implant Center, under the direction of Dr. Alex Rabinovich, focuses on the placement and restoration of dental implants, making it among the top-rated dental implant clinics in the San Francisco Bay Area. Dr. Rabinovich is a Board Certified Oral and Maxillofacial Surgeon specializing in the field of dental implants. This additional training, along with his years of experience, sets Alex Rabinovich MD DDS apart from the growing number of general dentists offering dental implant treatments. The cost of dental implants in the Bay Area can be easy to manage with payment plans available. San Francisco Dental Implant Center serves the San Francisco Bay Area including Marin County areas such as Tiburon, Sausalito, and Mill Valley.
Contact:
San Francisco Dental Implant Center, Media Relations
Web. https://www.sfdentalimplants.com/
Email. visage.sanfran@gmail.com
Tel. 415-817-9991