March 31, 2017 – San Francisco, California. San Francisco Dental Implant Center, one of the Bay Area's leading dental implant centers, is proud to announce a new blog post on smart and healthy investments.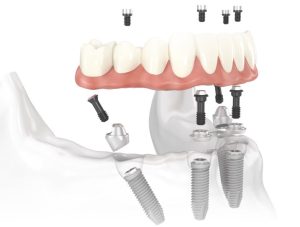 Investing in the health of an individual can be just as important as investing for retirement. Excellent oral health can offer the benefits of a happier and longer life, at both a physical and psychological level.
"As people age, their teeth begin to show real wear and tear. This can affect a person's overall health," explained Dr. Alex Rabinovich, chief oral surgeon of San Francisco Dental Implant Center. "While people are saving for retirement, we'd like to remind them it's also important to invest in their health, at both physical and psychological levels. Investing in dental implants can be affordable and add cost-savings in the long run."
To review the new blog post about affordable Bay Area dental implants, please visit the website. Among the most common queries from potential clients is the true cost of dental implants. Accordingly, in the blog post interested persons can learn some conceptual strategies to begin to evaluate cost-effective plans for receiving affordable dental implants as details about dental implants. Interested persons are reminded, however, that no two individuals are alike, and so are recommended to reach out for a dental implant consultation. The San Francisco office is located in the Financial District and is convenient to BART as well as the San Francisco / Oakland Bay Bridge.
Affordable Dental Implants can be a Healthy Investment for Bay Area Locals
Here is a summary of some of the key points of this important blog post. Investing in the future can be a frequent phrase Bay Area residents hear. Putting money away for retirement may be considered a wise investment. Another smart investment to consider can include paying attention to one's health. Mouth health is another valuable investment that can pay off for the years ahead. Bay Area locals with bad teeth can experience overall health problems that have long-term effects. Bacteria from periodontal disease may release toxins into the bloodstream creating more risk for a heart attack or stroke. Instead of frequently pulling bad teeth, affordable dental implants can be the best investment a Bay Area local makes for the future.
Accordingly, the San Francisco Dental Implant Center has recently released a new blog post about the importance of investing in a person's health. If a resident is suffering from frequent root canals and bad teeth, it may be time to consider affordable dental implants. Investing in the future can include taking care of oneself by saving for a long term dental implant procedure. Quality as well as cost may have to be considered. Finding a quality oral surgeon to perform dental implant surgery can also help with better health benefits in the coming years. Saving for better oral care can be easy and affordable. Dental Implants performed by a top oral surgeon in the Bay Area can be a great investment in one's future health and happiness.
About San Francisco Dental Implant Center
San Francisco Dental Implant Center, under the direction of Dr. Alex Rabinovich, focuses on the placement and restoration of dental implants, making its team among the most experienced in the Bay Area. Dr. Rabinovich is a Board Certified Oral and Maxillofacial Surgeon specializing in the field of dental implants. This additional training, along with his years of experience, sets Alex Rabinovich MD DDS apart from the growing number of general dentists offering dental implant treatments. Dr. Rabinovich provides services for the San Francisco Bay Area, Peninsula and surrounding North Bay Cities.
Contact:
San Francisco Dental Implant Center, Media Relations
Web. https://www.sfdentalimplants.com/
Email. visage.sanfran@gmail.com
Tel. 415-817-9991