San Francisco, CA – April 22, 2013. San Francisco Dental Implant Center, a leading provider of high quality, affordable dental implants to San Francisco Bay Area residents, is proud to announce a major update to their Web presence. The company has updated its website to better serve the information needs of Bay Area residents considering dental implants.
"We take pride in our Internet presence as a top provider of dental implants and even patient education on these issues," explained Dr. Alex Rabinovich, owner of San Francisco Dental Implant Center. "Our goal is to revamp our website and social media presence to better serve Bay Area patients who want to understand what affordable dental implants can do for them."
Affordable Dental Implants: New Technologies to Help Bay Area Patients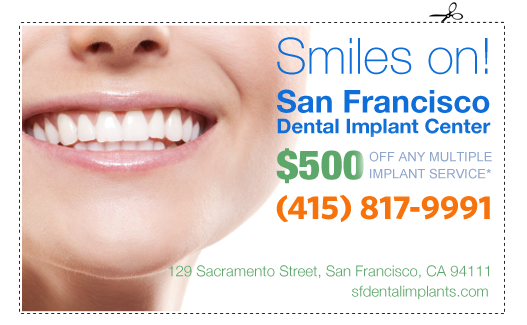 Dental implants are designed to provide a foundation for replacement teeth that look, feel, and function like natural teeth. Patients regain the ability to eat virtually anything and smile with confidence, knowing that their teeth appear natural and that facial contours will be preserved. The implants themselves are tiny titanium posts that are placed into the jawbone where teeth are missing. The bone bonds with the titanium, creating a strong foundation for artificial teeth. Implant supported teeth are the closest thing possible to natural teeth. They look, feel and function just like natural teeth. Patients regain your confident smile and retain your active, youthful lifestyle with dental implants. Partients can replace a single tooth, multiple teeth, or even all teeth in teeth in a day. Because of this amazing dental implant technology and the affordable dental implants offered, patients from around the San Francisco Bay Area have made the San Francisco Dental Implants their first choice for dental implants.
About San Francisco Dental Implant Center

San Francisco Dental Implant Center, under the direction of Dr. Alex Rabinovich, focuses on the placement and restoration of dental implants, making its team among the most experienced in the Bay Area. Dr. Rabinovich is a Board Certified Oral and Maxillofacial Surgeon specializing in the field of dental implants. This additional training, along with his years of experience, sets Alex Rabinovich MD DDS apart from the growing number of general dentists offering dental implant treatments.
Tel. (415) 992-9188
Back to Press Release Home…