Not everyone can "do" dental implants in San Francisco. Some dentists will do them, and some oral surgeons do them some of the time.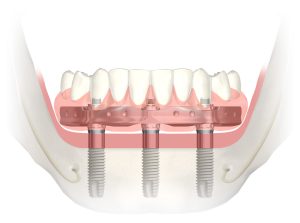 Of the two, you would probably be better off with an oral surgeon rather than a general dentist, but even then many oral surgeons only do dental implants some of the time.
Let's take a comparison: if you own a Ferrari (yes, we know you're thinking "I wish!") you wouldn't take it to Joe's Garage just down the road when it needs a service. You would take it to the Ferrari main dealer because you know that they do nothing other than Ferraris all day and every day and they have all the genuine Ferrari parts that are needed.
Equally, the local Lamborghini dealer might well service your Ferrari, and indeed may do them now and again. Certainly, they are used to dealing with high end sports cars, but you would still rather go to the Ferrari dealer when all is said and done. After all, the Ferrari dealer is the specialist.
The Same Thing Applies When You Need Dental Implants
Exactly the same thing applies when you need an oral surgeon for dental implants in San Francisco. You want to see a specialist – someone who does dental implants every day of the week. After all, the worst thing that can happen if you let Joe's Garage service your Ferrari is that it could cost you a lot of money to put right. With dental implants you are talking about your own health.
At San Francisco Dental Implant Center we undertake dental implants every day. If you think about it the clue is in our name! We don't do general dentistry, and we most certainly can't service your Ferrari, but our Doctor Rabinovich can most definitely give you that winning smile that you once used to have and would so love to have again. When you need an oral surgeon for dental implants in San Francisco, our doctor will be happy to help you, and he has many, many years of experience.
We have all the latest state-of-the-art equipment here in our office in the Financial District and we only use the very finest materials. Yes, there are some cheap imports when it comes to dental implants, but we will not countenance them. Only the very best is good enough for San Francisco Dental Implant Center patients.
So if you are looking for an oral surgeon for dental implants in San Francisco you know where to come. Our doctor is happy to provide every patient with an initial consultation, and you can book one by calling the office on (415) 992-9188 or clicking on the Contact Us link at the top of the page.