At San Francisco Dental Implant Center one of the first questions that most of our patients ask is what is the cost of dental implants in San Francisco?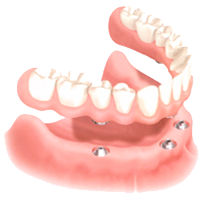 It's a fair enough question and it's one that we would happily answer if we could. Let's put our cards on the table: dental implants are not what you would call "cheap". They ARE going to cost a bit of money, but then the best of anything always does.
And to answer your question – sort of – the answer is that we don't know. That is because we don't know you. You may have a jawbone which is perfect for dental implants but then again you might need a bone graft if you haven't enough bone in the site already. Obviously the second case will cost more than the first. There could be other issues.
Initial Consultation with a Dental Implant Specialist
The only way we can tell you how much the cost of dental implants in San Francisco is for YOU, is to come into our office and let our doctor have a look at you. That way he will be able to quote you an exact cost.
Now here is another thing: the price we quote you could be more than you can afford to pay today. However, we have a very wide range of finance options that we can offer you, so there is bound to be one that will enable you to have the treatment that you need – which is simply the best option for replacement teeth today.
Discounts on Dental Implants?
Not only that, we also offer discounts, so if you need more than one dental implant, you will get a discount. If you are a senior citizen, you will get a discount.
Not only that, in some instances your insurance may cover part or all of your dental implants. We also accept many insurance providers and we will work with you to endeavor to get any insurance to which you may be entitled. We simply don't believe that anyone should be prevented from having dental implants just because of the cost.
There is nothing whatsoever to beat dental implants. A bridge? No. Dentures? Not in a million years.
So click on the Contact Us link at the top of the page and book your appointment with our Dr Rabinovich. There is no obligation, but you may be pleasantly surprised at the cost of dental implants in San Francisco.