Oakland is San Francisco's funky sister-city across the Bay. It's the zig to San Francisco's zag. Or should that be the zag to San Frisco's zig? Whatever, Oakland and the East Bay are home to great coffee, great music, and – dare we say – great (sunnier) weather. Well, at least there's less fog.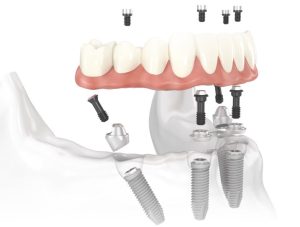 However, if you need the best dental implants in Oakland, California, you need to take a trip across the Bay Bridge or via BART to the Financial District of San Francisco which is where you will find San Francisco Dental Implant Center. Our name says it all really, doesn't it?
Dental implants are what we do. When you have made the decision to go for dental implants in Oakland, California, you want them to last. You want to go through the procedure once and then that's it for life. This is why you need to see a specialist oral surgeon such as our Dr Alex Rabinovich. He is a highly skilled oral surgeon and has been helping patients with dental implants for years.
Dental implants in Oakland, California, are a specialty in much the same way as brain surgery is a specialty. If you needed that, you wouldn't want a general surgeon who usually does appendix removals. You would want to see a brain surgeon. The same thing applies when you want dental implants: you don't want a general dentist, you want a specialist.
The Very Latest CAT Scanner
At San Francisco Dental Implant Center we use the very latest 3D NewTom CAT scanner which gives our doctor a full picture of your jaw. NewTom is the only manufacturer which provides horizontal and vertical views, and is recognized as the industry leader. The scan only takes about 20 seconds and produces far less radiation than x-rays do.
The dental implants themselves are in the form of a titanium screw which is inserted into the jawbone and upon which the crown is fixed. Our doctor only uses the very finest dental implants manufactured by NobelBiocare here in the US. We will not have anything to do with so-called "cheap" foreign imports.
You want dental implants that, once you have them, will last you for life. That means that you can forget that you have got them and just eat anything you wish, as you have done in years gone by. Dental implants are the nearest thing to your original teeth that you can get.
If you need financing for dental implants, our doctor can provide that as well. We have a wide choice of different financial options, so there is bound to be one that fits perfectly with your budget.