San Francisco is a city of contrasts. We have the tragic homeless problem on the one hand, and we have the stellar beauty of the Golden Gate Bridge on the other.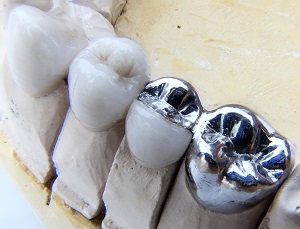 We have the dynamic technology sector, and we have the struggling Tenderloin.
We love our city, and we want to take care of it. That goes for oral health as well. Some people have "bad teeth" and just ignore the problem. That is not a good idea because your teeth can have a direct impact on your overall health. Others have teeth that are missing, leaving unsightly gaps, but they don't want to wear dentures. Who can blame them? When newly fitted, dentures can work quite well, but over time they can slip and slide about. Even if they don't, you can't eat things like nuts or other tough foods with dentures.
The answer to all these problems is San Francisco dental implants. These are just as good, if not better in some ways than your original teeth. San Francisco dental implants use a titanium screw – the implant – which is fitted into the jawbone. Over a period of several weeks to a few months, the jawbone will grow tightly around the implant in a process known as osseointegration. To all intents and purposes, the implant becomes a part of the jawbone. The implant is then fitted with a crown to match the existing teeth and – lo and behold – you have a tooth that works just as well as the original one did.
No More Embarrassment
Now you have regained your smile. You don't have to cover your mouth with your hand when somebody tells a joke and you laugh out loud, which you did beforehand out of sheer embarrassment at the gaps between your teeth.
You can have single San Francisco dental implants or several, depending on your personal situation. There is also "all on four" which means replacing a complete set of teeth on the lower or upper jaw on just four or possibly five dental implants: this does not require an implant for each individual tooth.
At San Francisco Dental Implant Center we have an expert dental implant doctor, Dr. Alex Rabinovich. He has years of experience of providing patients with dental implants and restoring beautiful natural smiles. Our doctor uses only the very finest quality dental implants such as Nobel Biocare rather than some of the cheap imports which are available.
Our doctor is happy to provide all patients with an initial consultation. So if you would like to find out more about dental implants and whether they are right for you, just click on the Contact Us link at the top of the page.