How do you define the best dental implant center in San Francisco, or anywhere else for that matter? What does "best" really mean? Cheapest? Best quality materials? Best office? Best doctor?
Obviously, we like to think that at SF Dental Implants we are the best you can get, but you would expect us to say that. So how do we back up what we say? Here, in no particular order, are our reasons for considering we are the best dental implant center. The reason that they are in no particular order is simply because what one patient thinks is the most important benefit may be completely different from what another one considers important.
A Center Specializing in Dental Implants in the Bay Area
SF Dental Implants is a SPECIALIST implant center. To clarify this, we only do dental implants – nothing else. So if you want dentures, or you need a filling, we're sorry – we don't do those. We just offer dental implants.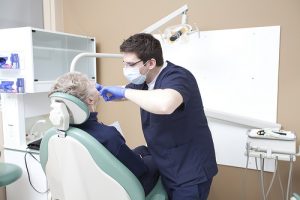 It follows from this that we have considerably more experience of performing dental implants than a general dentist who may undertake implants only once or twice a month. We are doing them all day, every day.
We have the most luxurious office with staff members who are highly trained and treat every patient as though they were close members of their own family. We understand that some patients may feel nervous, so we take every care to ensure that each individual has as much time and understanding as he or she needs. Our aim is to put you at your ease.
Every Patient Is Treated By Dr Alex Rabinovich
Every patient is treated by our chief surgeon, Dr Alex Rabinovich, in person. Dr Rabinovich has performed several thousand dental implant surgeries, and is highly qualified not just to carry out these procedures, but is also a qualified Cranio-Maxillofacial Surgeon. He is qualified to conduct Corrective Jaw Surgery and Facial Reconstruction such as Trauma and Cleft Lip and Palate deformities. In addition, he has conducted clinical research and is the author of several medical articles. Dr Rabinovich is frequently contacted by dentists throughout the US for advice.
We believe that our patients only deserve the absolute best, and to that end Dr Rabinovich only ever employs the very finest materials, and has never used cheaper imported ones, as others do.
We also believe that everyone who has missing teeth and needs replacements should have dental implants in preference to any other treatment. This means that we consider that cost should never be allowed to influence a patient's decision. As a result, we can offer a very wide choice of different payment options for those who require them, including one that carries zero interest.
More Reasons for Choosing the Best Dental Implant Center for You
Those are some of the reasons that we consider that we are the best dental implant center in the Bay area. There are others: we all really enjoy the work that we undertake, and it gives us a feeling of satisfaction and pleasure when we see a patient who is once more able to smile and to eat any foods of choice after – in some cases – years of suffering dental problems.
Dr Rabinovich is always happy to offer an initial consult with no obligation whatsoever, when he will undertake to answer every question that you may have. In order to book your consult, just call us on (415) 992-9188 or click on the Contact Us link at the top of the page.