If you are looking for dental implants to replace your missing teeth, then good for you. There is nothing whatsoever to beat dental implants, especially when you compare them with the alternatives.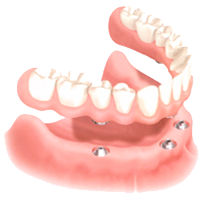 Yes, you could choose dentures, and they certainly cost less than dental implants do, but then the cheap option is never the best option. And when you are talking about your face, your jaw, the way that your smile looks, the way that you talk, and the way that you eat, and what you eat, then there is no doubt that you need the best. Who in their right mind would try to cut corners on any of those things?
The trouble with dentures is that while they may fit to begin with, they are going to need ongoing adjustments, and they can also slip and slide about when you eat. Worse still, if your dentures become loose, it has not been unheard of for someone wearing them to throw their head back and laugh out loud at a joke, only to have the dentures fly out of their mouth! How very embarrassing.
Another option, if you only have one missing tooth, is a bridge. However, that means that you have to have the two perfectly good teeth on either side cut down to support the bridge. Not really the best option either.
The Best Possible Option May be Dental Implants (Check with a Specialist)
That leaves San Francisco dental implants as the best possible option but finding the best-in-class dental implants provider is not so easy.
If you are like many people, you may not have enough cash to pay for your dental implants at present, so you may need to obtain some credit. Many providers don't have any facilities to offer credit, but at San Francisco Dental Implant Center we have multiple providers, so there is bound to be a suitable option for your budget. We also accept most credit cards.
Not only that, but if your insurance provider covers you, we accept a range of different providers, so we can help you whether your insurance cover is in full or will only part cover you. In addition, we offer all patients a dental implant consultation, so we can advise you as to the exact procedure that you need (there is no one size fits all when it comes to dental implants) and tell you the precise cost, so that you can make your own decision.
To book your consult for San Francisco dental implants, just click on the Consult link at the top of the page.