Many years ago, if people lost most or all of their teeth there was only one answer: dentures.
Then new technology was developed which allowed people to have dental implants which are a considerable improvement on dentures, since they don't slip about when you eat and they perform in exactly the same way as your original teeth.
The problem with dental implants is that the process can take months. First, a titanium implant is inserted surgically into the jawbone. Over a period of several weeks to some months the jawbone and the implant fuse together. Then a small connector called an abutment is fitted to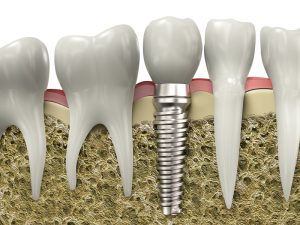 the top of the implant and the replacement tooth is fitted on top of that.
On top of that, some patients will need a bone graft which can involve taking bone from the hip or leg.
Of course, some people don't like to wait that long so technology has been developed which means that you can now have dental implants in a day if you are a suitable patient.
How It Works: Dental Implants in a Day, Explained
The new technology is called San Francisco "all-on-four" because four implants are inserted into the jaw, often angled differently, and a bridge which replaces all the teeth on that jaw can be attached to the implants on the same day ("teeth in a day").
Dr Rabinovich uses a CT scanner which he has in his office and which gives a 3-d image showing the best places to insert the implants. He also likes to use 5 or 6 implants because if one should fail at a later date more implants will become necessary. There is less likely to be a failure if 5 or 6 implants are used.
The Finest Titanium Dental Implants
Dr Rabinovich only uses the very finest titanium implants rather than cheap imports. He works on the basis that his patients want their dental implants to last for the rest of their lives.
Not every patient is suitable for dental implants, but most are. Once installed, you can laugh, smile, and eat anything you wish.
Dr Rabinovich will be delighted to offer a consult to any patients in the Bay area and beyond who are considering San Francisco all-on-four in order to establish if you are suitable for San Francisco all-on-four implants and to answer all the questions that you will naturally have about them.
Call his office on (415) 992-9188 to make an appointment. You can also email us at info@doctorrabinovich.com or simply click on the Contact Us link at the top of this page.