If you find yourself in the unfortunate circumstance of having lost a tooth due to age-related factors or because of an accident or injury, you should be aware that you have choice of either getting dental implants or having a bridge put in. San Francisco Dental Implant Center has performed many consultations on this topic over the years, and while every patient is different and he or she should have a face-to-face consultation with a dental implant specialists, we can share some general advice on the matter, particularly in relation to the issues of affordability and longevity. To make it easy, we offer a consultation with Dr. Alex Rabinovich, long recognized as the Bay Area's leading oral surgeon for dental implants.
Dental Bridges have Distinct Drawbacks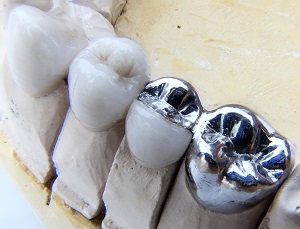 The most important thing for the patient to understand when choosing between dental implants and a bridge is that the latter option runs the risk of sacrificing two "good" teeth to save one "bad" tooth. In California, and especially in the San Francisco Bay Area, people are both image conscious and want to be seen as technologically advanced. Bridges, in sum, are "old school," while dental implants are the latest and greatest in technology.
A bridge involves cutting down the teeth on either side of the missing tooth, and these teeth may be perfectly healthy. Damaging two teeth, with all the potential future problems, to replace one tooth is, perhaps, not the best idea. The two teeth adjacent to the are used to support the bad tooth, but their long-term health may be compromised.
Why Bay Area Residents Prefer Dental Implants
In the case of a dental implant, the bad tooth is simply replaced. While a bridge might be viewed as a case of "one step forwards, two steps back," the implant is a straight-forward step in the right direction. We know that patients must also factor in considerations of immediate costs versus further costs that might be incurred down the road. It may be a dental implant has a higher up-front cost. However, chances are good that the dental implant will last a life-time, while a bridge necessitates additional expense down the road. How to resolve this trade-off can be confusing, so patients are encourage to contact San Francisco Dental Implant Center for a consultation: https://www.sfdentalimplants.com/consultation/
Dr Alex Rabinovich is the leading dental implant doctor in San Francisco Bay Area and is happy to offer you a consultation and answer all your questions. To learn more about San Francisco Dental Implant Center, get in touch with us via our contact page: https://www.sfdentalimplants.com/contact/. You can also email him at info@doctorrabinovich.com, or call 415 817 9991 for an appointment.